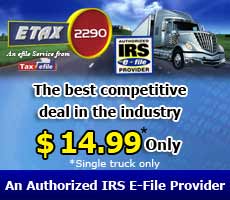 (PRWEB) April 05, 2012
Form 2290 is used by the IRS to collect excise tax for owning and operating a Heavy Highway Vehicle in the United States. This tax must be paid every year by the end of the second month after acquiring ownership of the vehicle. The IRS uses this excise tax to do multiple things within the US including but not limited to improving road conditions and increasing safety awareness. Every year Thousands of Truckers visit Local IRS Offices and stand in lines for hours waiting to pay the Truck Tax for the year.
Recently in 2011 the IRS began offering a new method to file Form 2290 and pay the Truck tax for the year. The IRS created a list on the IRS website of IRS Authorized E-file Providers for Form 2290. With E-filing filers can now avoid the extensive wait time and the long wait lines at local IRS offices. Now Filers can E-file Form 2290 from home and receive a Stamped Schedule 1 within minutes. E-filing saves valuable time and money by expediting the normal filing process and in the case that errors should be present E-filing detects these errors almost instantly allowing Filers to fix the problem immediately.
Another valuable benefit of E-filing with an Etax2290.com is the Customer Service Filers receive. With live 24/7 chat support and a staff of experienced tax professionals Etax2290.com goes above and beyond what most E-file providers consider customer service. Filers can call in and receive detailed instructions on how to file Form 2290 and pay the Truck tax amount to get a stamped schedule 1 within minutes.
To start E-filing today visit Etax2290.com. Users will find an easy to use system that walks each person through the filing process in minutes. Feel free to contact Etax2290 with questions or concerns or to talk to a tax professional today.