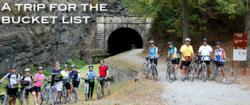 We have always been supporters of the Rails-to-Trails mission. We are pleased to now help more than 300 people experience the joys of the GAP and C&O Canal trails during the RTC 2012 Sojourn ride. -Eric Martin, Owner, Wilderness Voyageurs
(PRWEB) April 05, 2012
For the first time in a decade, Rail-to-Trails Conservancy is partnering with a bicycle touring & adventure company, Wilderness Voyageurs, to produce the 10th Annual Greenway Sojourn. The seven-day, 335-mile exploration from Washington, D.C. to Pittsburgh, Pa., is an annual bike ride and trail-building program hybrid that celebrates newly opened trails and promotes the completion of others to create regional trail systems. This year's event takes place June 17-24, 2012.
With nearly 50 years of professional guiding experience, Wilderness Voyageurs' seasoned professionalism and proficiency is just one of the reasons they were selected by the Rails-to-Trails Conservancy to manage the registration and event logistics. The oldest rafting company in the northeast, Wilderness Voyageurs leads fun, fit multi-sport excursions – including whitewater rafting, rock climbing, kayaking, fly fishing and cycling tours.
"We are thrilled to have Wilderness Voyageur's expertise and experience to support this year's Greenway Sojourn on The Great Allegheny Passage Trail and C&O Canal trail. They have been especially helpful with answering questions from our many out-of-state riders since their operation is located on the Great Allegheny Passage.," said Tom Sexton, Director, Rails-to-Trails Conservancy, Northeast Regional Office
Kicking off in Georgetown, Washington, D.C., pumped-up cyclists will zip along the scenic Canal Towpath through acclaimed aqueducts and legendary locks and lockhouse remnants in the C&O (Chesapeake & Ohio) Canal National Historic Park. Continuing the journey, cyclists of all levels will spin, climb and descend through Harper's Ferry National Historic Park, Antietam Battlefield and Fort Frederick, home to Maryland's frontier defense during the French & Indian War (1754-1763). Near Cumberland, Md., the route melds into fragrant dense wilderness, wending along the Great Allegheny Passage, past quaint hamlets, over breezy bridges, and along the Youghiogheny River, with incredible views of the surrounding valley. Because the entire Sojourn travels along trail and towpath, the grade stays a relaxing 2.5% or less for the entire trip.
Attracting trail and cycling enthusiasts from over 30 states across the USA, the RTC annual Greenway Sojourn is a weeklong cycling celebration of the bounty of local trails, potential of local trail systems and the comfort of local community support. See the Sojourn Tour itinerary here.