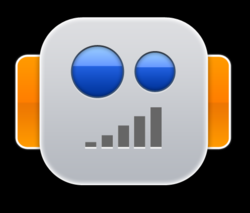 New York, New York (PRWEB) April 07, 2012
Because Digi has seen the inside of a police car on both sides of the pond, and because he can now see the inside of police work, http://www.appsbar.com has chosen Points to Prove as the appsbar app of the day.
The Point to Prove app was built by some of our U.K. friends using appsbar for Police Officers and Special Constables – but it has something for everyone interested in law enforcement. The app maker said "this contains all the useful mnemonics for remembering your powers and the most common offenses and points to prove." The builder added that it's only useful to those who have undergone police training and already have brief knowledge of police and criminal law. Serves as an aide memoir on your mobile phone and is ideal to refer to whilst on patrol.
Where the app can be downloaded for free: Google Play
Why Digi likes it:
It's free to download. Digi watches a lot of police drama, both on the "telly" screen and off. This app highlights how a special interest group can package and share information among themselves – and the world. Made with appsbar, the robust yet easy-to-use free app builder, which has powerful tools like iPhone apps builder, windows app builder & Android apps builder that allows creating mobile apps in easy steps, this app already has 6,000 downloads. Simply join the community with an email address and get started on an app. Digi, our loveable robot app coach is there to help at each step.
About appsbar:
http://www.appsbar.com was launched in 2011 to fill the gap between over-simplified apps and costly, professionally-produced apps. appsbar.com apps each average 500 to 1,000 downloads within the first day of being published. In 2012, appsbar became the leading developer of Android apps with more than 10,000 published. appsbar was developed by Appsbar Inc., a company founded by Scott Hirsch. appsbar has grown to a community of everyday app developers and opened the way for businesses and people to engage with friends and brands online through the development of customizable digital tools. For company contact information and partnership opportunities, visit http://www.appsbar.com
For More information:
Joe McGurk
PR(at)appsbar(dot)com