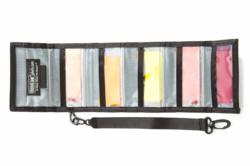 Santa Rosa, CA (PRWEB) April 06, 2012
For all the Strobists out there, Think Tank Photo announces that in May it will release the Strobe Gel Wallet. This wallet stores photography gels in a neat and organized manner and keeps them protected.
The wallet minimizes clutter by folding up and stashing away in photographer bags, cases, or backpacks. The five pockets have a large capacity. This enhances the ability to store and locate gels easily instead of having them mound into one big stack.
Features include:

Compact five-pocket carrier for Rosco Strobist™ filters.
Clear pockets for gels make identification easy.
Folds flat when not in use.
Business card slot.
Can be tethered to any Think Tank product, clothing, or belt.
Hook and loop closure with fold-up design.
Includes tether with clips for security attachment.
Specifications
External Dimensions: 4.5" L x 2.5" W x .5" H (11.5 x 6.5 x 1.5 cm)
Weight: 0.1lbs (0.04kg)
About Think Tank Photo
Headquartered in Santa Rosa, California, Think Tank Photo is a group of designers and professional photographers focused on studying how photographers work and developing inventive new carrying solutions that meet their needs. They are dedicated to using only the highest quality materials and design principles, and employing materials that are environmentally benign.