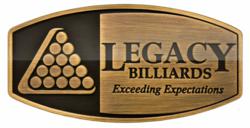 Game Room personality is easily represented by focusing on a key centerpiece item and building from there.
Memphis, TN (PRWEB) April 10, 2012
Putting together an attractive and enjoyable atmosphere within the home is no easy feat. Finding the right theme and activities that resonate with the users interests is best handled by focusing on a key centerpiece item. The Professionals at Legacy Billiards are pleased to share their expertise of the top 4 questions to ask before deciding on a purchase of a quality Pool Table.
1. What size room should be used for a pool table?
Since most pool cues are 57" or 58" in length, at least five feet of space is needed between the table rails and the surrounding walls or furniture. However, there are very few recreational rooms that do not have some sort of obstacle that interferes with play. In some instances a shorter cue stick may enable play around an obstacle or wall. Because pool tables are available in several sizes, it is helpful to look at a comparison chart that shows the recommended room size for the most popular sizes of pool tables.
2. What are the most important qualities of a pool table?
A pool table is a piece of furniture on which you play games. As such, look for the same things you would look for in fine furniture and then look for those things that impact playability. Fine furniture should be well built, look good, fit the room décor and last for generations. Quality construction, slate, cloth, cushions and installation impact playability. In some cases the appropriate pool table is one without a fine furniture look, but it should still possess the playability factors. A pool table should be backed by a Lifetime Warranty.
Fine furniture uses proven joinery techniques not just pieces of wood joined by hardware so look for those features.
Other components include: K-66 cushion rubber -the only cushion rubber sanctioned by the BCA (Billiard Congress of America) and 1" thick, diamond honed 3-pc slate.
3. What kind of cloth is best on a pool table?
There are two basic grades of cloth for a pool table, Napped Wool or Worsted Wool. Both are made from wool and contain a percentage of nylon. Worsted wool is generally recommended because of its durability, speed, and easy maintenance.
4. Why do some pool tables cost more than others?
Buying a pool table is just like buying fine furniture. In general, higher priced pool tables have more carving and intricate details as well as a higher cost to manufacture. It's important to note that the price does not necessarily translate to a better built Pool Table
By asking the right questions and understanding the importance of the answers, a Pool Table can be a purchase that gives decades of enjoyment.