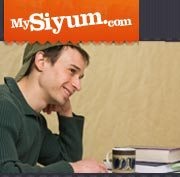 Our primary goal is to get the students to fall in love with the process of having open discussions on fascinating moral dilemmas and compelling topics.
Passaic, NJ (PRWEB) April 05, 2012
MySiyum.com, a website founded by Partners in Torah with the goal of encouraging Jewish learning, is pleased to announce the launch of a specialized curriculum offering novice students the chance to experience the classic Talmudic method of study. The curriculum initiative involved the expertise of over a dozen of the most talented teachers and scholars in the Jewish world who spent many years developing the full 32-session program.
Each session consists of a series of 6-8 enigmatic original sources often with no apparent connection or flow from one to the next. As the teacher and student work through the source material's supplied discussion questions and challenges their task is to weave a consistent understanding and lesson from the seemingly disparate material. In utilizing this 2,400 year old practice of study, the minds of both are sharpened and made wiser as they craft their solution -- which might vary widely from that gained by another pair! "There is nothing on earth comparable to the Talmud in its logical structure, metaphoric texture, and analysis of law", said Rabbi Yaacov Deyo, one of the lead authors of the series, "so it was natural to base a signature curriculum series on its tried and true methods."
The series of sessions includes compelling material to grab the interest of a novice or seasoned Torah learner. Topics in the "Taste of Talmud" series are varied. One is dubbed "Blind Man's Block," and explores the mitzvah "Do not place a stumbling block before the blind." The unit discusses sources and provides thought-provoking points to ponder, as well as precedents and scenarios to practice applying the principles being discussed.
While Partners in Torah has taken a more informal approach in its mentoring program, the new curriculum provides a framework to help both teacher and learner get the most out of each session of free, one-on-one learning. Rabbi Eli Gewirtz, National Director of Partners in Torah, commented on the new initiative, "Our primary goal--which we think we achieved--was to design a series of sessions that will get students addicted to Jewish learning, to get them to fall in love with the process of having open discussions on fascinating moral dilemmas and compelling topics. While they're at it, they become fast friends with another Jewish person. Where they both take the material is up to them. We couldn't be more happy with the results."
MySiyum.com was created, initially, to encourage Jews from all backgrounds to participate in Jewish learning, generally, and more specifically, in the 12th Siyum HaShas planned for August 1, 2012. The expectation is that nearly 100,000 Jews will fill the MetLife Stadium in New Jersey on that day. August's Siyum HaShas is the culmination of Jews across the world studying the same page of Talmud each day. Though Jews from all backgrounds have participated in the Siyum HaShas, Jews new to Jewish learning may feel intimated by the auspicious gathering. It is for this reason that Partners in Torah chose to create the new "Taste of Talmud" curriculum in order to give as many Jews as possible the chance to feel included in this great celebration of learning. Now, thanks to Partners in Torah they can also get a "Taste of Talmud."
To participate in this momentous event, interested people sign up on MySiyum.com to be matched with a mentor with whom to learn a Jewish text on any topic of interest. Ideally, the chosen text will be completed by August 1.
About MySiyum.com – MySiyum.com is a project of Partners in Torah, a free Jewish learning program that pairs students from across North America with Torah 'mentors' for weekly study by phone about all Jewish topics. Partners in Torah supports 13,000 learning sessions per week, and has successfully engaged over 30,000 students since its establishment 15 years ago. The organization also publishes regular newsletters about the weekly Torah portion as well as other Torah-based periodicals. For more information, visit http://www.mysiyum.com.