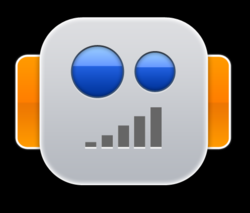 Just because Digi doesn't have hands, doesn't mean he doesn't know how to throw up a Mork & Mindy style "nanu nanu."
New York, New York (PRWEB) April 10, 2012
Just because Digi doesn't have hands, doesn't mean he doesn't know how to throw up a Mork & Mindy style "nanu nanu," so http://www.appsbar.com has chosen the iconic Jay Thomas as the appsbar app of the day.
What more can be said of Jay Thomas: actor, broadcaster, raconteur, host of the Jay Thomas Show on Sirius XM satellite radio. Apparently there's a lot more to be said about someone born in Kermit, Texas to an oil man and a tap dancing South Louisiana belle. Like how he helped make Mork & Mindy and Cheers two of Digi's favorite TV shows. Thomas used appsbar to make his app. Check it out!
Where the app can be downloaded for free: Google Play
Why Digi likes it:
It's free to download. Someone who could have hired a developer instead chose to make a dynamic, robust app the easy and free way. Made with appsbar, Thomas used powerful tools like iPhone apps builder, windows app builder & Android apps builder to create a mobile apps in easy steps. This app already has 5,000 downloads. Simply join the community with an email address and get started on an app. Digi, our loveable robot app coach is there to help at each step.
About appsbar:
http://www.appsbar.com was launched in 2011 to fill the gap between over-simplified apps and costly, professionally-produced apps. appsbar.com apps each average 500 to 1,000 downloads within the first day of being published. In 2012, appsbar became the leading developer of Android apps with more than 10,000 published. appsbar was developed by Appsbar Inc., a company founded by Scott Hirsch. appsbar has grown to a community of everyday app developers and opened the way for businesses and people to engage with friends and brands online through the development of customizable digital tools. For company contact information and partnership opportunities, visit http://www.appsbar.com.
For more information:
Joe McGurk
PR(at)appsbar(dot)com