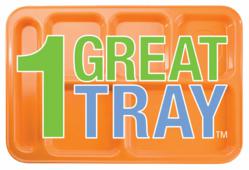 Owatonna, MN (PRWEB) April 05, 2012
What does a healthy school lunch look like? How can students meet the USDA MyPlate Dietary Guidelines when filling compartments of a lunch tray? A school meal makes up 30% of a child's daily nutritional intake, yet kids' trays often fall short when it comes to nutritious food choices.
For the past two years, Learning ZoneXpress (LZX) has been providing parents and educators with 1 Great Plate®, a visual representation of what a healthy plate should look like. Because most school lunches are served on a tray as opposed to a plate, Learning ZoneXpress felt compelled to create a visual that is consistent with MyPlate, but shown on a lunch tray. LZX will expand its product line to focus on healthy trays in addition to the healthy plates.
With new changes to the National School Lunch Program as part of the Healthy, Hunger-Free Kids Act of 2010, Learning ZoneXpress has developed 1 Great Tray™ as a solution to reflect change as well as a means to improve school lunches. 1 Great Tray™ is a spin-off of 1 Great Plate® offering visuals of fruits, vegetables, whole grains, lean protein and low-fat dairy in correct portion sizes all placed on the tray kids see every day at lunchtime. This visual is just as important to be present in the lunchrooms as it is at home.
This new product line will both educate and encourage schools, their staff, and their students to make healthy choices for school lunch. 1 Great Tray for the best school day!
About Learning ZoneXpress
Learning ZoneXpress, based in Owatonna, Minn., is a leading source of "edu-taining" and award-winning teaching tools. Its mission is to help improve the health and vitality of children by providing relevant, creative and affordable learning tools about life skills, healthy behaviors and nutrition. Learning ZoneXpress offers a wide variety of learning aids and affordable education DVDs, posters, games, lesson plans, and PowerPoint presentations.
For more information about Learning ZoneXpress products, visit http://www.learningzonexpress.com or call Toni Gnasdoskey at 888-455-7003.