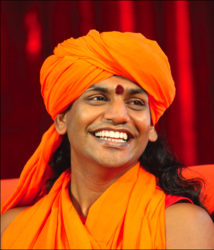 Something basic has to change in the planet earth. A huge conscious tsunami has to happen. Degeneration of youth is happening by various online addictions. Online addictions have similar adverse effects such as publicized effects of drugs and alcohol.
Los Angeles, California (PRWEB) April 19, 2012
In his opening comments, Nithyananda stated that, "The most unused resource on Planet Earth is youth energy. This energy can create massive positive change, but it is currently being misdirected towards creating alarming issues for humanity's future."
According to Nithyananda, three major issues are coming together to create a tsunami of potential disaster for the planet.
For the first time in history, Nithyananda stated that the youth of today in the developing world are a greater percentage of the population.* "This has accelerated the dissolving of traditional societal order and values that have kept societies functioning, leaving the youth without direction or leadership."
"Secondly, consumerism is causing our use and abuse of planetary resources to cross the limits of sustainability."
Thirdly, Nithyananda pointed out that these issues are magnified by an even larger problem, which he described as, "The worst epidemic humanity is facing today: the degeneration of youth. Youth are rapidly losing touch with reality, caused by the growing dependence on internet technologies -- an addiction that is now more common than alcoholism. This addiction causes a disconnection from others, leading the addict to live in a fantasy world." As a prime example, Nithyananda cited recent statistics on the use of online pornography, which show that the first use of pornography by children is at an average of 11 years old!*
"Humanity has reached the peak of perversion," said Nithyananda. "And this is not even the pleasure of the senses; this is the pleasure of the fantasy. This can lead to global suicide!"
Nithyananda's recommended solution is for youth to take a radical stand and strip away the social conditioning that is the cause of these major issues. He recommends eliminating all activities that support the development of fantasy. He states that instead, youth should focus on fully experiencing life with all of its realities and connections with people.
He advocated for youth to live with other cultures for at least one year. Nithyananda urged Youth to consciously travel with minimal funds and comforts. "They should work hard on developing a strong, fit and healthy body and stabilize the mind through meditation. These recommended steps allow the accumulated physical and mental toxins to be flushed out, and a new identity to emerge." He prescribed that in addition; youth should deliberately reduce or stop their use of the Internet in order to reconnect with reality.
In his opinion, following all these steps will result in youth developing the ability to be unshakably centered and able to face all of life's changes and challenges.
Nithyananda concluded his webinar by offering youth an opportunity to participate in Ananda Yogam, a one-year, free program at his ashram headquarters in Southern India, designed to develop the full human potential of young people.
Next world wide webinar:
Paramahamsa Nithyananda will be conducting a free world wide webinar on Peace on April 22 Sunday @ 8:30AM Pacific Time. The webinar is titled - Only Way to World Peace - Exploding the "Peace Myth". For more details please visit the website: http://www.nithyananda.org
About Nithyananda:
Paramahamsa Nithyananda is a global leader in enlightenment science. He is the most-watched spiritual teacher on YouTube.com with 13 million views, and is the author of more than 200 popular books. Nithyananda was recently named one of the world's top 100 most spiritually influential personalities by Watkins' "Mind Body Spirit," the world's largest and oldest esoteric magazine. Nithyananda heads an international socio-spiritual organization, conducts personal development programs with a high level off youth participation, and works with over 1,200 youth volunteers annually. To learn more, please go to http://www.Nithyananda.org.
About Inner Awakening:
Inner Awakening is a unique and intense 21 day yoga and meditation program held in the Nithyananda Dhyanapeetam Ashram in India, under the personal guidance and coaching of the Enlightened Master Paramahamsa Nithyananda. This program gives the participants the opportunity to realize one's full potential in all aspects of life to leading towards an extraordinary way of existing.
For more information, please contact:
pr(at)nithyananda(dot)org
Nithyananda Vedic Temple
9720 Central Ave, Montclair
California 91763, USA
1-909-625-1400