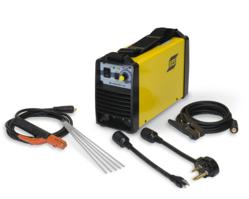 Florence, SC (PRWEB) April 09, 2012
ESAB Welding & Cutting Products introduces the new MiniArc® 161LTS power source.
Weighing only 18 pounds, the MiniArc® 161 is an extremely portable, 115 or 230 V, single-phase machine that provides outstanding results for TIG and stick welding. The Automatic Primary Select function configures to the primary input supplied. When welding in DC mode, the MiniArc® 161 ranges from 5 to 160 amps.
The MiniArc® 161 features a fixed hot start function, which allows the operator to easily strike an arc without the electrode sticking to the plate. The machine's fixed arc force allows the operator to get deeper penetration into the plate without the electrode sticking. The lift arc tig feature allows the operator to lift the tungsten, eliminating the risk of depositing tungsten into the plate. Tungsten deposition contaminates the plate, and is a common by-product of traditional scratch starting. If the airflow becomes blocked, a thermal indicator prevents the MiniArc® 161 from being damaged. This indicator also prevents the machine from exceeding the duty cycle.
The innovative, practical design of the MiniArc® 161 makes it both practical and easy to use. A simple user interface with amperage knob, stick/TIG switch, and on/off switch on the front panel results in exceptional operating flexibility.
With more than 100 years of experience, ESAB Welding & Cutting Products is one of the world's largest and most skilled manufacturers of welding and cutting equipment and welding filler metals. Recognized as the technological leader in the industry, ESAB is committed to providing customized solutions for their customers. For more information, visit http://www.esabna.com or call 1-800-ESAB123.