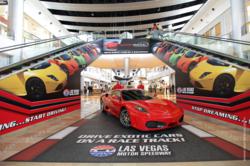 Driving Experience packages start at $199 for a 30-minute racing class and five laps in an exotic car on the track with a personal racing instructor.
Las Vegas, NV (PRWEB) April 05, 2012
Exotics Racing Las Vegas has launched a new offering at Fashion Show mall on the Las Vegas Strip. Guests looking for things to do in Las Vegas can pick from the world's largest fleet of exotic cars, choose the number of laps they'd like to drive and take an hourly round-trip shuttle from Fashion Show mall to the Las Vegas Motor Speedway complex to drive the car on a private racetrack.
Driving Experience packages start at $199 for a 30-minute racing class and five laps in an exotic car on the track with a personal racing instructor. All of Exotics Racing's cars are equipped with paddle-shifters, making the Driving Experience accessible to guests of all driving skill levels. Before guests drive, they have the opportunity to get to know the track as a passenger in a Porsche Cayenne GTS driven by one of Exotics Racing's lead racing instructors.
A Drifting Ride-Along Experience is also available, in which guests ride as a passenger with a professional racecar driver. Two-lap packages are available for $99.00.
The Exotics Racing booth is conveniently located in Lower Level West of Fashion Show mall, near the Apple store and the entrance to Saks Fifth Avenue. The booth can be easily accessed from the underground garage's Yellow Parking Zone. Fashion Show is located at 3200 Las Vegas Boulevard at Spring Mountain, across from Wynn Las Vegas; Las Vegas, Nevada 89109. The booth's hours of operation are Monday - Saturday 10:00 a.m - 9:00 p.m. and Sunday 11:00 a.m. - 7:00 p.m. the direct line to the booth is 702-892-0043.
About Exotics Racing
Located approximately twenty minutes from the Las Vegas Strip, Exotics Racing's private 1.4 mile track includes eleven turns and a 1,800-foot straight. The track was designed by award-winning French stunt driver and racecar driver Romain Thievin and his team. Known for his work as Matt Damon's stunt double in The Bourne Identity, for which he won a Taurus World Stunt Award, Thievin launched Exotics Racing in Las Vegas in 2009. Thievin has worked on more than 150 movies and is a five-time racing champion, as well as the co-host of French television show Fast Club.
Exotics Racing owns over 30 exotic cars, including Ferraris, Lamborghinis, Porsches, as well as an Audi R8, a Mercedes SLS, and an Aston Martin V8 Vantage. The most recent addition to the fleet was a limited edition Lamborghini Aventador LP700-4 in December 2011. Only 4,000 Aventadors were produced. Performance for the $400,000 690hp V12 supercar has been estimated to accelerate from 0-60mph in 2.9 seconds with a top speed around 217mph.
Exotics Racing's private track and adjacent reception facility is located in the Las Vegas Motor Speedway complex at 6925 Speedway Boulevard; Las Vegas Nevada 89115, and is visible from the I-15 freeway. The track is open to the public Tuesday-Sunday, and is available for group and private events, including a Stunt Driving Experience in specially-equipped Mini Coopers. Corporate events are also available for groups of 15 - 400 guests per day.
Exotics Racing has hosted over 40,000 satisfied customers. Guests visit the track from around the world to drive today's most exciting supercars with professional racing instruction on a real race track. The racing school program integrates classroom education, familiarization laps and real-time right seat instruction into one comprehensive, safe and exciting driving experience. Details for the racing school can be found on http://www.exoticsracing.com or by calling (702) 405-7223.