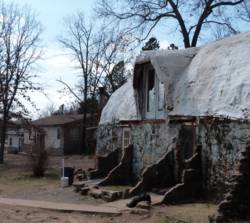 With this special issue, we're addressing stories that matter to all Oklahomans
Tulsa, OK (PRWEB) April 05, 2012
The Oklahoma City bombing of 1995 was a tragic terrorist attack that continues to affect lives and communities throughout Oklahoma—and yet much remains to be understood about the event. In a compelling series of exclusive feature articles, This Land Press, a new media company based in Oklahoma, offers in-depth stories that add to the understanding of the attack and its effect on the state. The articles will appear in the April 15 edition of This Land.
In "Who's Afraid of Elohim City?" reporters Lee Roy Chapman and Joshua Kline visit a secluded compound regarded by many as the most dangerous place in Oklahoma. Elohim City, located in northeastern Oklahoma, was deeply investigated by the FBI for its suspected role in the Oklahoma City bombing. Through an exclusive interview with the group's pastor, John Millar, Chapman and Kline take readers on a journey into one of the most mysterious places in Oklahoma. The article explains how Elohim City became a magnet for dangerous men.
Another article, by reporter Gerald Posner, was intended to run in the 1997 edition of The New Yorker, but never appeared, in part, due to concerns over the FBI's holding of classified records. "The Third Man?" which revisits the question of another accomplice to the bombing, will be published in full by This Land. Additionally, Posner has released his notes taken from an FBI 302 file that remains classified to date. Those documents will be exclusively available in This Land Digital, for iPad.
A third article, excerpted from the book "Oklahoma City: What the Investigation Missed—And Why It Still Matters," opens with an intimate sexual encounter involving Timothy McVeigh and Richard Rogers, and explores the ramifications of McVeigh's sexuality. The article, by authors Andrew Gumble and Roger Charles, also delves into the role of Elohim City in the bombing, and acts as a complement to the other featured article, "Who's Afraid of Elohim City?"
"With this special issue, we're addressing stories that matter to all Oklahomans," says This Land Press publisher Vincent LoVoi. "Collectively, these special investigations broaden our understanding of this tragic event, and at the same time raise important questions about what remains to be discovered."
The Columbia Journalism Review has called This Land Press a "rare example of literary journalism on the community level." In addition to its print publication, This Land also produces a weekly television series documenting life and culture in the middle of America, along with a radio program series that complements its reporting. The Oklahoma City bombing edition of This Land will be available on April 15th, both in print and digital forms
To receive advance press copies of articles, or to request interviews with the authors, editors, or publishers, please contact Courtney Campbell at courtney(at)thislandpress(dot)com