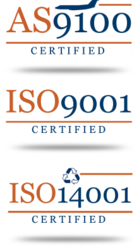 Melbourne, Florida (PRWEB) April 09, 2012
CERTON is officially an AS9100 Rev C and ISO 9001:2008 certified company. This is truly an amazing accomplishment that further supports CERTON's competitive advantage in the aerospace engineering industry. The adoption and implementation of a complete Quality Management System (QMS) has proven to be a remarkable asset to CERTON and their customers.
In addition, CERTON has also received its ISO 14001 certification. This is for the implementation of an Environmental Management System (EMS). This documented plan is monitored and measured constantly by Dan Rice, CERTON's Environmental Management Representative (EMR). CERTON has a detailed list of objectives and targets to hit for the FY 2012 to help reduce its operational costs and the environmental footprint as a "green" company.
Tim Stockton, CERTON's President and CEO, states, "This is a milestone that has significant meaning within our organization and would not be possible without the leadership of Dan Rice, CERTON's Corporate Quality Manager (CQM), and each employee's commitment to the QMS."
About CERTON
CERTON is a leader in safety-critical engineering services and solutions for customers in the Aerospace, Medical, and Transportation industries. CERTON has developed tools and technology to streamline certification of safety-critical systems, software, and complex hardware in order to minimize the time-to-market of customer products for a Firm-Fixed Cost. CERTON's primary focus is developing completely automated solutions for systems, software, and complex hardware verification and validation. CERTON provides expertise in all phases of the systems, software, and complex hardware product design life cycle to support rapid certification of safety critical customer products that is quality centric.
Contact CERTON today at sales(at)certon(dot)com or visit their web site at http://www.CERTON.com to see how CERTON can help you.