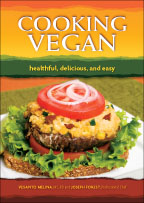 Designed to help anyone use plant-based foods to renew and sustain their health.
Sumemrtown TN (PRWEB) April 17, 2012
Plant-based diets have enjoyed recent media attention. From President Clinton's dramatic improvement to his heart and weight and the popularity of Forks Over Knives to the endorsement by television hosts Dr. Oz and trainer Bob Harper, a vegan diet— one completely void of animal or dairy products— is being recognized as the right dietary choice for optimal health.
COOKING VEGAN demystifies a vegan diet and shows it to be not only healthful but an exciting culinary choice. Designed to help anyone use plant-based foods to renew and sustain their health, it is the collaboration of two professionals—internationally renowned vegan dietitian, Vesanto Melina, and professional chef, Joseph Forest.
Book Publishing Company, an independent press based in Summertown, TN, has specialized in titles on plant-based diets and alternative healing for over four decades. Among their best-sellers is Becoming Vegan, co-authored by Vesanto Melina and registered dietitian Brenda Davis.
This companion book offers a more condensed primer on nutrition with a large section devoted to recipes. Vesanto expertly explains how to meet recommend nutrients, familiarizes ingredients and staples to make shopping easier, and gives valuable cooking tips for using unprocessed foods. Each recipe has a complete nutritional analysis. A vegan food guide describes the necessary food groups along with recommended servings. Twelve daily international menus help people of any age, activity level, or ability in the kitchen get a sense of how to mix and match dishes to suit their needs.
In spite of the best intentions, taste is often the determining factor in whether a diet will be adhered to. Cooks will appreciate advice from a pro as Joseph shares his secrets to success and shows how to achieve depths and nuances of flavor. Featuring whole foods and an abundance of fruits and vegetables that are readily available and easy-to-prepare, these meals are both visually appealing and completely gratifying to eat.
COOKING VEGAN will inspire readers to cook meals that support their health and develop a deeper connection with food.
Vesanto Melina is also co-author of the joint position paper on vegetarian diets from the Academy of Nutrition and Dietetics (formerly the American Dietetic Association) and Dietitians of Canada. More information on Vesanto can be found at http://www.nutrispeak.com.
Joseph Forest has over twenty-five years of experience working in fine-dining restaurants and hotels, and as a caterer to Hollywood film crews and stars in Vancouver, Canada. Learn more about Joseph at http://www.josephforest.com.