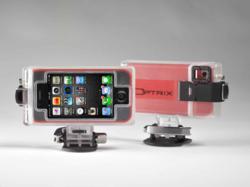 The Optrix HD is a game-changer in the action camera market
Malvern, PA (PRWEB) April 06, 2012
SportHiTech announce the immediate availability of the revolutionary Optrix HD rugged case and mount that allows the iPhone 4/4S and 4th generation iPod touch to be used as an Action Camera.
iPhone and iPod owners can add the Optrix Case for a $89.99, a fraction the cost of purchasing an action camera of another brand. When the Optrix is paired with an iPhone 4S, the resultant package is a GPS and G-Force capable rugged and weatherproof HD camera with up to 64GB of storage and the ability to play back and even edit footage on the device.
The designers of Optrix have created a case that will allow the iPhone to be used as a camera under extremely rugged conditions.
The Optrix HD system, comprising the all-weather case, two anti-vibration sleds for iPhone and iPod, a curved base, a flat base, and a quick release handle, is available now for $89.99 from SportHitech here.