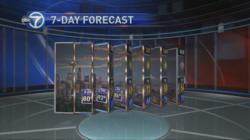 "With Fusion Studio, presenters can reach viewers with impact-focused forecasts and interpretations that connect immediately at the most local level,"
-Bill Boss, Weather Central VP for media solutions
Madison, WI (PRWEB) April 05, 2012
Weather Central, makers of the most viewed weather system in the world, today unveiled plans to showcase powerful enhancements to its Fusion Studio™ weather presentation system at the upcoming National Association of Broadcasters Show in Booth SL3911. Expanded 3D graphics capability, social media connectivity, and effortless presentation interfaces--all backed by the industry's highest resolution weather data--enable broadcast weather presenters to dive deeper into the local weather stories that directly impact their viewers.
"Fusion Studio strikes the perfect balance between profound meteorological science and gripping television that attracts viewers," said Bill Boss, Weather Central VP for media solutions. "The only way to achieve that is by putting a broad palette of meaningful content at the presenter's fingertips in a way that supports interactive, fluid storytelling. With Fusion Studio, presenters can reach viewers with impact-focused forecasts and interpretations that connect immediately at the most local level."
High Resolution Forecast Data
The key enabler behind Fusion Studio is Weather Central's high resolution data, such as VividCast™ that enables presenters to zero in with 1km resolution forecast data on specific locations in their viewing area. In addition to local graphics, this data drives unique indexes that answer the question that most interests viewers, "how will the weather affect me?" Weather Central iFactor™ delivers a life-style based weather rating based on a 1-100 scale that can be integrated into weather presentations.
Expanded 3D Feature Set
Fusion Studio offers a true 3D environment, featuring multiple lighting sources, shadows, customizable animations and transitions, 3D object support and more. Now any Fusion scene—graphic, live video or clips, etc.—can be applied to the face of a 3D object and then used interactively by the presenter during broadcast. This 3D mapping scene offers presenters an entirely new category of storytelling tools and presents broadcasters with additional avenues for creativity in set design and brand identification. Other new features include 3D texture mapping and reflections.
Seamless Social Media Integration
Fusion Studio provides station meteorologists with one-click integrated posting to a station's Facebook and Twitter pages that ensures coordination of output between on air forecasts and that pushed to social media platforms.
For a complete look at Weather Central's solutions visit http://www.wxc.com.
About Weather Central, LP Weather Central, LP, founded in 1974 by broadcasters and meteorologists based in Madison, Wisconsin, is the leading provider of professional on‐air, online, print, mobile and enterprise weather solutions and forecasting in North America and to major customers worldwide. Utilizing the Company's dynamic weather graphics, precise forecast models and data, and patented technology, more than 1000 partners and hundreds of millions of consumers worldwide benefit from Weather Central's attention to weather presentation, detail and insight.
© 2012 Weather Central, LP, Madison, Wis. All rights reserved. Product specifications and availability are subject to change without notice. Weather Central LP, Fusion, Fusion Studio, :LIVE, GENESIS:LIVE, 3D:LIVE, ESP:LIVE, MagicTRAK, LiveLine GENESIS, A.D.O.N.I.S. MicroCast, A.D.O.N.I.S. FutureCast, StormSentinel DV, WxWarn2, ScreenWRITER, SportsWRITER, SimulCAST, X‐Vision, Storm Vitals, TelePath, RainVision, SnowVision, FunnelPATH, CellPATH, HailZONE, GustZONE, MessoPATH, Always‐On Training, Instant Mapping and WxPoint are either registered trademarks or trademarks of Weather Central LP.
All other trademarks contained herein are the property of their respective owners.