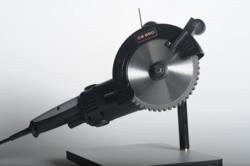 (PRWEB) April 05, 2012
Infusion Brands, Inc. (INBI.PK), announced today that it will give away at least 50 circular saws to followers of the DUALSAW brand's Facebook page, located at facebook.com/dualsaw.
"This past year, Infusion Brands has been hard at work continuing to bring disruptive innovation to its raving fan customers. In particular within the DUALSAW product line." said Bob DeCecco, CEO of Infusion Brands. "What started as a single product only sold on television has evolved to become a recognized brand in the DIY marketplace, and thanks to feedback from our customers we've continued to improve the design and manufacturing quality of the brand."
The DUALSAW Destroyer CS650 sports a more powerful motor and larger blades than the original model, and is based mostly on suggestions received from customers. Originally designed as a professional grade version, "The Destroyer" brings a more edgy approach to the DUALSAW line, branding itself primarily as a demolition saw. Moreover, Infusion Brands has gained the exclusive rights to a newly designed engineering mechanics which is ONLY found on the DUALSAW. This patent pending engineering of the gear and hub system guarantees a more efficient, effective and durable machine, leading to longer life of both the machine as well as the blades themselves.
"We've always pushed the envelope a little on the DUALSAW Facebook page, focusing more on being entertaining and fun than promoting the product." said Ron Rule, Director of E-Commerce for Infusion Brands. "We have a lot of fun with it and it's the perfect place to debut the new model, so we decided to select the winners based on who asked for one the most convincingly."
The company is also giving away saws to victims and workers affected by the recent Dallas tornadoes who need a demolition saw to clean up debris.
The contest requires users who want to be considered to receive one of the free models up for grabs to post a video of themselves, saying why they should get it. Winners will be selected by the company and the community by the end of the month. Contest details are available at http://facebook.com/dualsaw