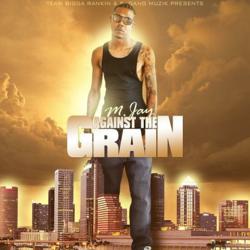 Miami, FL (PRWEB) April 06, 2012
Rapper M. Jay recently released his mixtape"Against the Grain." Coast 2 Coast Mixtapes presents the project in association with Team Bigga Rankin and S Gang Muzik. Mixed by Bigga Rankin, it is now available for free download. "Against the Grain" features M. Jay on tracks with guest artist appearances from Eric David, T.Handz, M.V.P., and Packster.
M. Jay found his passion for music early in life. As a baby, he would bring his mom the CDs he wanted her to play. He grew up on music from 2 Live Crew and others of that era. The introduction to rap and hip hop at such an early age helped to fuel his first passion of becoming a DJ, where M. Jay found that he was able to spot hit music, thus claiming his instrument the "artistic ear." Hailing from Progress Village in Tampa, FL, M. Jay learned the ways of the streets and was practically raised by them. While serving time in prison, M. Jay chose to educate himself and create a plan for his release. He proclaims now that he is not only a fan and an artist, but a true student of great music. As a former member of Team Fetti and hand selected by Tom G to be one-third of the group Street Starz, M. Jay feels he has learned a lot about the workings of the music industry but has learned even more about what doesn't work. He understands the needs for patience but was ready for success to happen for him, thus leaving the group and putting the full focus on himself.
M Jay lends an imaginative blend to his songs with help from his partner T.Handz. Together they have created S Gang Muzik, where they are masters at crafting catchy yet lyrical styles of writing. M. Jay is defined by his inventive lyrical spins, unmatched street flare, and extreme confidence.
"Against the Grain" is available for free streaming and download at http://coast2coastmixtapes.com/mixtapes/mixtapedetail.aspx/m-jay-against-the-grain