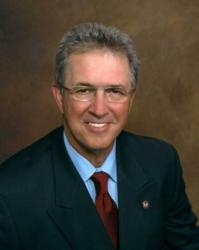 Even though LSH has proven effective for thousands of women worldwide, many members of our own profession still do not offer it as a viable option.
ATLANTA, GA (PRWEB) April 09, 2012
Laparoscopic Supracervical Hysterectomy (LSH) has come of age, 23 years after Thomas L. Lyons, MD, of the Center for Women's Care & Reproductive Surgery in Atlanta introduced this minimally invasive procedure in 1989. Performed as an outpatient surgery, it leaves the cervix in place as a keystone support for the anatomy, helping to prevent pelvic prolapse later.
An additional benefit: Studies have shown that women experience improved sexual function and can resume intercourse two weeks after the surgery. Recuperative time is one week or less, and there is no hospital stay, reducing the possibility of infection.
In comparison, women getting traditional hysterectomy with long abdominal "bikini incisions" may stay several days in the hospital and be out of work six to eight weeks.
Unfortunately, a shocking 60-65% of the 600,000 hysterectomies annually in the U.S. are still performed abdominally, with long incisions. In 2005, the American College of Obstetrics & Gynecology expressed that the number of abdominal hysterectomies should be lowered to less than 30 percent.
Dr. Lyons' patient Myla Irwin, a married career woman with four girls age 10 and under, realized she had large fibroids that were creating health issues she could no longer ignore.
She consulted her aunt, who endorsed Dr. Lyons wholeheartedly after having had a Laparoscopic Supracervical Hysterectomy by him ten years earlier,
"Typically I don't go to male doctors for GYN concerns, but my aunt steered me to Dr. Lyons. She very much appreciated that he left her ovaries," said Mrs. Irwin.
"When I researched Dr. Lyons and discovered that he pioneered the LSH procedure, I thought, 'How lucky I am!' Everything exceeded my expectations."
She had the LSH and pelvic floor repair on a Tuesday and was home within hours of the procedure. She felt no pain and by seven days post-op she felt 100%. "I forgot I'd had surgery," said the busy mother of four.
Laparoscopic Gallbladder Removal Is 100%--Why Not Hysterectomy?
"Unlike gallbladder removal, for which general surgeons converted 100% to laparoscopic surgery in two short years between 1987 to 1989, the spread and availability of LSH hasn't progressed as much as we'd like for several reasons," said Dr. Lyons.
Reasons include:
1. Gynecologic laparoscopy training and study needs to begin at the residency level, just out of medical school when MDs begin their specialty training.
2. Most of the 40,000 practicing OB-GYNs today perform less than 8-10 major surgical procedures per year, making it difficult to acquire a new skill with such a small number of surgical procedures with which to work.
3. Many people, including even practicing OB-GYNs, are not aware that another option exists for hysterectomy, other than the larger abdominal incision technique.
"Even more than that, the OB-GYN is often a woman's primary caregiver, and a special relationship exists between a woman and her doctor. If that doctor says that LSH is not the right procedure for her, because they think the uterus is too big or for any other reason, the woman may take that advice unquestioned," said Dr. Lyons.
"The regrettable fact is that, even though LSH has proven effective for thousands of women worldwide, many members of our own profession still do not offer it as a viable option," he continued. Often surgeons hesitate to recommend procedures that they are unable to perform, even though they are demonstrably easier on the patient.
Fortunately, women are excellent consumers, and they shop for the best service at the best price. Professional women who can't afford to take 6-8 weeks recuperative time, or homemakers with children who need to take care of their families have come to Dr. Lyons from around the world to have their Laparoscopic Supracervical Hysterectomy or other advanced laparoscopic procedures with quick recovery times.
"Smart health consumers are much more proactive in researching their options on the Internet, and many are not willing to settle for the way it's always been done," he said.
Performed through tiny abdominal incisions, laparoscopic or endoscopic procedures involve less pain, less risk and less recuperative time.
Dr. Lyons holds office hours in both Dunwoody and Lake Oconee. Reach him at
770-352-0037 or 888-545-0400.