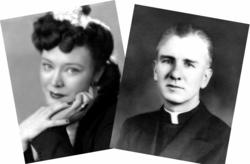 "Q. What do you get when you cross a Broadway actress with a Catholic priest? A. Me." --Dr. Hope
Fallbrook, CA (PRWEB) April 06, 2012
Dr. Hope, is having multiple contests where he will be giving away autographed First Edition copies of his critically acclaimed books to promote his Facebook Fan Page. The first drawing will be on Easter Sunday with weekly drawings through the end of April. An Alpine Publishing spokeswoman said that the contests are free to enter, just click on 'LIKE.' The lucky winners even get to select which prize they want to win.
"Got Kids? Pick an award-winning children's book. Love Love Stories? Pick Everybody Calls My Father, Father, the true love story of my parents. Just go to http://www.facebook.com/TimDrHopeAnders and click 'LIKE' to enter, it's that simple," said Tim 'Dr. Hope' Anders.
Everybody Calls My Father, Father, exposes to the world the hardships and heartaches that the author's mother had to endure, at the hands of the Catholic church because of her secret and forbidden love with his father, a Catholic priest.
The character of a tenacious young woman, Bouvette Sherwood (the author's mother), who is a successful New York Broadway producer and actress, drives the plot. In the mid 1940s Bouvette meets and falls in love with a charming alcoholic, Hughie Hewitt. He has a secret though, which he keeps from her during their intense courtship—he is a Catholic priest. For years their steamy romance and covert living arrangements are successfully hidden from the suspicious eyes of the church. After spawning two children their deception becomes increasingly difficult to conceal. Their love story unfolds into a kaleidoscope of intrigue, suspense, betrayal, and romance.
Excerpts of the book can be read at: http://www.EverybodyCallsMyFatherFather.com
Dr. Hope's award-winning children's storybooks teach kids the power of believing in themselves, the joy in helping others, the love of laughter, to always try their best and the benefits of living in the present moment. You can read several of them online at: http://www.LaughingDay.com
About Tim "Dr. Hope" Anders: Dr. Hope is an award-winning children's book author who also writes books for grownups. For more information about him go to http://www.DrHope.com.