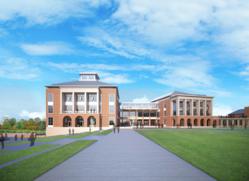 Lynchburg, Va. (PRWEB) April 09, 2012
As construction continues on the new Jerry Falwell Library at Liberty University, the Jerry Falwell Library Campaign offers anyone an opportunity to contribute to the project.
Named in honor of founder Dr. Jerry Falwell, Sr., the exciting new four-story, 170,000-square-foot addition to Liberty's growing campus will include special areas and features to be named by generous donors who support the mission of Liberty and echo Dr. Falwell's belief that, "If it's Christian, it ought to be better."
The library will impact the entire academic community for decades to come and the Jerry Falwell Library Campaign gives various ways for anyone to join this inspiring project.
Showcased at the main entrances of the library, commemorative bricks will record the achievements and gratitude of those whose lives have been touched by the university. Donors can choose from three different sizes and engrave the bricks with memories, tributes or accomplishments.
The bricks will be installed as pavers at the prominent library entrances. Bricks can be ordered online or by calling (877) 485-8945. For more information, email nameabrick(at)liberty(dot)edu.
Donors able to contribute on a larger scale can also opt for naming opportunities for some select features of the library, such as a robotic automated book retrieval system, a nearby lake, a forum, the welcome center, food court and other areas of distinction.
Other charitable donations may be given to the general library fund; all donations are tax deductible.
Liberty's 2012 graduates chose the library campaign for their senior project. Graduates donating $20 or more will be given a special green cord to wear with their Commencement regalia.
Welcoming and innovative, the Jerry Falwell Library will further energize Liberty's mission to Train Champions for Christ and is sure to become the heart of the university.
Liberty University, located in Lynchburg, Va., is the world's largest Christian university. More than 12,000 students attend classes on its 6,500-acre residential campus and more than 70,000 study in its thriving online education program.