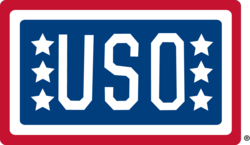 The USO adapts to meet the needs of those who need us most. For our nation's military children, the USO provides programs and services that help them lead strong family lives today, tomorrow and in the future.
Arlington, VA. (PRWEB) April 06, 2012
In ten years of war, military children have dealt with the stresses of multiple deployments, a loved one's visible and invisible wounds of wars, or the grief associated with the loss of a family member. Of more than 1.9 million children with a parent in the United States Military, there are 220,000 children who have a parent deployed. Research suggests that children with deployed parents face more stress than their peers.
The USO admires the nation's youngest heroes for their sacrifices–especially during April's 'Month of the Military Child'. From April 1 - May 13, 2012, the USO is celebrating military families by generating awareness of the challenges faced by military children. At locations worldwide, the USO will host programs and activities that will support military children.
"The USO adapts to meet the needs of those who need us most. For our nation's military children, the USO provides programs and services that help them lead strong family lives today, tomorrow and in the future," said Sloan Gibson, USO President. "For the USO, that means connecting kids with mom or dad when they are far away, comforting them when they are dealing with unimaginable life challenges, and supporting their celebrations during emotional events like homecomings."
The USO's broad reach and reputation attracts valuable resources and partner organizations to create a comprehensive array of programs and facilities with the scale to make a meaningful difference in communities across the globe. The USO uses this presence around the world to say "thank you" on behalf of the American people – and a special thanks this month to our military children. To learn more about the USO's Military Family Programs or attend an event please use the following list of USO events and programs:
USO Events During 2012 Military Families Campaign:
SESAME STREET/USO EXPERIENCE: The "Sesame Street/USO Experience for Military Families," made its debut in July 2008 to help families deal with the challenges of deployment and homecomings. On April 7, 2012, the USO launches Phase VI of the tour, visiting more than 65 stateside military bases between April and November with more than 235 performances. Complete with a brand new tour bus and show theme, audience members will meet Elmo's newest friend Katie - a military child experiencing the stresses of moving when Mom or Dad is transferred to a new duty station. The show boasts a 30-minute high energy character performance with special giveaways and vital outreach materials for those who attend. Click here for tour dates: http://www.uso.org/sesame
KISS BOX AND USO LOCATIONS IN THE PACIFIC: From April 1- May 15, fun and creative events for military kids (Pre-k to 2nd grade) and their parents will take place in the Pacific surrounding the "The Kiss Box". In this children's book, Mama Bear and Little Bear find a way to keep from missing each other when they're apart. The USO will distribute the book which covers themes like family, love and separation. The USO will encourage reading together and disseminate fun ways like arts and crafts to extend the book's messages.
USO ENTERTAINMENT TOURS: Internationally recognized tennis star Anna Kournikova will travel to Spain as part of her fourth USO/Armed Forces Entertainment tour April 14-18. She will talk to military families about the importance of maintaining a healthy lifestyle and following their dreams. For the latest in USO entertainment visit http://www.uso.org/tours
WITH YOU ALL THE WAY TOUR IN EUROPE: This program, in partnership with the Comfort Crew for Military Kids and the Trevor Romain Company, supports children from age six to 18 as they tackle the difficult issues unique to growing up in a military family. Trevor Romain is an entertainer, author and illustrator who specializes in helping children of military families deal with life issues like the challenges of relocation, the deployment of their parents and the loss of loved ones.The program reaches military children through performances at schools on or near military installations, DVDs, and kits distributed at USO centers. With You All The Way will be in Germany May 7th and in Spain May 14th.
USO CENTERS: USO centers provide a warm and comforting place where troops can connect with home via Internet or telephone. USO centers also provide a place for military families to come together and connect with one another to support each other in difficult times. Events focused on military children include:

The USO of Hampton Roads and Central Virginia presents the 2012 Patriotic Art Contest to help decorate the walls of the USO centers at the Richmond Airport and Fort Lee. This contest is open to all school age children in elementary, middle, and high school as well as homeschoolers and it must have a patriotic theme. The winners' artwork will be turned into wallpaper for our USO centers at Fort Lee and the Richmond Airport. In addition, the winners will be invited to the unveiling and a reception at the respective locations. This artwork will be dedicated on April 23, 2012.
USO Story Time at Fort Hood: On April 16th USO Fort Hood & Barnes and Noble will host Story Time in Fort Hood Community Life Buildings across the Installation. This is open to children younger than 5 years old yrs and their parents. Barnes and Noble will read an age appropriate story book followed with a craft related to the book.
Warrior and Family Care Luncheon with USO San Antonio: On April 24th up to 200 wounded troops and family members are provided lunch at the Warrior Family Support Center located at Fort Sam Houston.
Free Family Movie Night with Osan AB in Korea: On April 5, 19, 26 and May 3 - troops and families in need of an evening without breaking the bank can join Family Movie Night at the USO Theater Room.
Year Round USO Military Family Programs:
OPERATION PHONE HOME®: Staying connected with family is one of our troops most requested services. At our centers located in combat zones, the USO provides a private phone network for troops to make free phone calls home, access to computers with free high speed internet bandwidth to connect, online, with family back home, as well as free wireless Internet access for troops with their own computers. For those forward deployed troops who are serving in remote areas without access to our centers, the USO provides free international pre-paid calling cards. And many USO centers stateside also provide free internet and phones to connect with home no matter how far away.
UNITED THROUGH READING'S MILITARY PROGRAM: In 2006, the USO partnered with United Through Reading® to host its' program at select USO centers worldwide. Troops can visit a participating USO center to read a story aloud to their children. This is then recorded on camera, and the USO mails the DVD and book home for the child. Families then send back a photo of the child watching their DVD. In 2011, 60,000 recordings were sent to military families across the world.
MILITARY FAMILY CARE PACKAGE: Sending a care package home is the focus of this program that helps families stay connected. Troops headed overseas write a note which is placed in a special journal which is packed in a "care package" with other useful items like prepaid calling cards, disposable cameras, and gift certificates for groceries and tutoring services. The package arrives home several weeks after the service member deploys, reminding the family that their loved ones are thinking of them.
USO PHOTO BOOK PROGRAM: Through a partnership with RocketLife, LLC, the USO Photo Book program gives loved ones a chance to connect with family and friends deployed overseas by creating and sending a free personal soft-cover photo album sized perfectly to fit in a uniform cargo pocket. USO Photo Book supports and comforts our service men and women by helping them stay connected with their families and supporters back home.
USO WARRIOR AND FAMILY CARE: USO supports wounded, ill and injured troops, their families and caregivers through multiple programs and partnerships with best-in-class organizations that help families reconnect as they continue their recovery journey. Families can participate in USO programs including Caregivers Conferences to USO/National Military Family Association Healing Adventures Camps and USO/Stronger Families, and Oxygen Seminars. Two new USO Warrior and Family Centers will create an environment to reunite families in the face of change. USO Warrior and Family Care includes support and programs for families of the fallen, such as USO's partnership with TAPS to provide Good Grief Camps for children and families.
USO WISHBOOK: USO Wishbook is an alternative giving catalog that allows customers to tailor their contributions by interest, recipient or by price. The amounts range from $25 and under to $500 and over. Gifts for kids this month include: A Phone Call Home ($25), Growing Up Brave Deployment Kits ($25), Family Fun Day ($50) and Bedtime Stories ($50).
###
About the USO
The USO (United Service Organizations) lifts the spirits of America's troops and their families millions of times each year at hundreds of places worldwide. We provide a touch of home through centers at airports and military bases in the U.S. and abroad, top quality entertainment and innovative programs and services. We also provide critical support to those who need us most, including forward-deployed troops, military families, wounded warriors and their families and the families of the fallen.
The USO is a private, nonprofit organization, not a government agency. We rely on the generosity of our volunteers and donors. In addition to individual donors and corporate sponsors, the USO is supported by President's Circle Partners: American Airlines, AT&T, Clear Channel, Kangaroo Express, Kroger, Lowe's, Northrop Grumman Corporation, Procter & Gamble, and TriWest Healthcare Alliance and Worldwide Strategic Partners: BAE Systems, The Boeing Company, The Coca-Cola Company, Lockheed Martin, and Microsoft Corporation. We are also supported through the United Way and Combined Federal Campaign (CFC-11381). To join us in this patriotic mission, and to learn more about the USO, please visit uso.org.