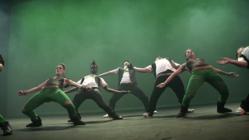 Tower Isle Production's Film Producer, Orville Matherson: "When we started working on this film back in 2005, way before President Obama came into office, we had no idea that the topic of our film would be the main mandate of our US President today!"
New York, NY (PRWEB) April 07, 2012
A Dance For Grace is a touching story of a group of teens who decide to enter a national dance competition in the hopes of using the prize money to fund a life saving operation for their community's matriarch, whose insurance does not cover the cost of her surgery due to a pre-existing condition clause. In their attempt to do so, they have the opportunity to learn a new and foreign style dance that leads them into the amazing world of Dancehall, while at the same time learning about the Jamaican culture behind it first hand.
http://www.indiegogo.com/A-Dance-For-Grace?a=415609
During the making of A Dance For Grace, the filmmakers of Tower Isle Productions had no idea that the story of their film would take on a life on its own. People would often share their stories about how their lives were inadvertently affected by insurance companies and volunteered their time to help making the film, and as a result, they became one big extended family.
A Dance for Grace is a Dance drama like we've never seen before as a new dance form in film, It brings a positive message where people set aside their differences by lending a helping hand to one of their neighbors, while entertaining at the same time.