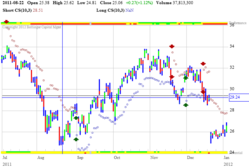 Knowing when to exit a trade can be more important than when you enter. That is why the addition of stops is so important.
(PRWEB) April 09, 2012
For US stock market traders and investors there are many online charting options that provide Bollinger Bands and some basic technical analysis indicators. Now the charts on John Bollinger's http://www.EquityTrader.com offer dynamic stops to advise users when it is time to exit a position.
Two types of stops are offered, Chandelier and Parabolic. The most popular is the Chandelier Stop, which is a trailing stop that was popularized by Chuck LeBeau. These are dynamic, progressive stops based on trade progress and the volatility of the market. Also available are Welles Wilder's Parabolic Stops. Parabolic refers to a price and time based trading approach. These stops increment each period, while Chandelier stops wait for the trade to progress. Both stops, Chandelier and Parabolics, can be calculated starting at the time that you enter a trade or plotted as always in the market trading indictors.
What makes this development unique is that both Chandelier Stops and Parabolic Stops can be plotted on EquityTrader charts for trades based on the users' actual trading activity, either for long or short positions. A detailed trade report is provided for each stop whether the discrete trade or continuous system approach is chosen. Like all of EquityTrader advanced chart features, stop parameters for each user are saved and will be reloaded using the same settings at the next log in. As data is updated users' stops are adjusted automatically and a current trade report is generated.
Says Bollinger "The addition of being able to plot stops on EquityTrader charts has made the site so much more powerful for users. Knowing when to exit a trade can be more important than when you enter."
EquityTrader Pro has more than 40 customizable indicators for investors to choose from, plus stock screening based on more than 15 criteria. EquityTrader Pro offers:

Bollinger Band pattern screening
Basic Bollinger Band indicators: %b and BandWidth
Exclusive new Bollinger Band indicators: BB Impulse, BBIndex, BBMomentum and BBTrend
Signal alerts (Pivots and PowerShifts), with the option receive occurring signals via email
Interactive TrendLines you can draw on your charts
Automated channel TrendLines to detect up and down trends
ZigZag overlay for price charts
John Bollinger's Price Magnets – exclusive to Bollinger websites
Another unique to EquityTrader feature is BBScript that provides the ability for traders/investors to program, test, save and run programmable scripts without having to utilize a desktop software package. While many websites offer financial charts, being able to create and customize your own indicators provides a new level of service to EquityTrader Pro subscribers.
About EquityTrader.com
Designed by John Bollinger, the developer of Bollinger Bands, EquityTrader features a 54-rule fuzzy logic model that evaluates stocks in two dimensions: past performance and expected current performance. Unique trademarked "traffic lights" present a stock's status at a quick glance.
EquityTrader provides interactive stock charts and analytics to clarify and simplify investment decisions.
Features include stock screening, versatile charts, daily lists of stock picks, intraday new highs/lows, intraday biggest movers and most active stocks, streaming index tickers, market sector and fundamental data, proprietary industry group structure with correlation for each stock with its group, sector, and a personal portfolio section.
The Pro section of EquityTrader features BBScript, Bollinger Band screening, over 40 customizable indicators including John Bollinger's newest Bollinger Band indicators (BB Impulse, Percent BandWidth and BandWidth Delta) in addition to %b and BandWidth, automated and interactive TrendLines, and John Bollinger's Price Magnets. The newest addition of tools for traders is Chandelier stops and Parabolic stops.
About John Bollinger
John Bollinger is best known for his Bollinger Bands, which have been widely accepted and integrated into most of the analytical software currently in use. He is the president and founder of Bollinger Capital Management, Inc., an investment management company that provides technically driven money management services. The firm also develops and provides proprietary research for institutions and individuals.
Mr. Bollinger has published the Capital Growth Letter since 1987 and is interviewed regularly on television and radio. He is a speaker at financial seminars worldwide and the founder of several financial websites: http://www.EquityTrader.com, http://www.FundsTrader.com, http://www.BollingerBands.com, http://www.BollingerOnBollingerBands.com, http://www.GroupPower.com, http://www.PatternPower.com, http://www.MarketTechnician.com and http://www.BBForex.com.
John Bollinger is the recipient of the 2005 Market Technicians Association Annual Award for Outstanding Contribution to the Field of Technical Analysis.
JOHN BOLLINGER IS AVAILABLE FOR INTERVIEW.