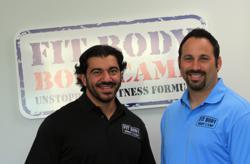 It is Proven and it is Successful and that is what our Franchisees Receive- Proven Success!
Chino Hills, CA (PRWEB) April 07, 2012
Both Bedros and Steve began as personal trainers barely making enough money to pay the bills. They were living just like many others in the industry, paycheck to paycheck. Bedros eventually developed marketing strategies to expand his personal training studio when the light bulb went off and he thought, "why am I training one individual for an hour when I can train 10 – 30 at a time?" Actually he was already doing this at a park in Chino Hills. A fitness boot camp provides individual training in a group environment but makes the trainer a whole lot more money.
The marketing strategies which can be found on Bedros's website, http://ptpower.com, can be used for any fitness business operation you run. But Bedros and Steve wanted to take fitness to whole new level and help as many fitness entrepreneurs as they could. By helping fitness professionals they could also attain their goal of reaching 20% of the population world-wide by 2020. They want to help people get healthy and fit. That's a pretty big goal, but if anyone can do it these guys can.
Fit Body Boot Camp Franchise was established in 2009 and already has over 200 locations worldwide. Those are big numbers in a short amount of time. So what makes the Fit Body Boot Camp brand grow so rapidly? "Hard work, determination, perseverance, a vision, and one hell of an awesome team," states Bedros. "We have a solid system in place; a system that no other fitness boot camp has. It is proven and it is successful and that is what our franchisees receive – proven success!"
Personal trainers don't just buy into a FBBC franchise and are left to run things on their own. In fact, there is a process each franchisee applicant has to go through before they can be accepted as a franchisee. "There are a lot people out there that are looking for a business just to make money and later find out what they became a part of isn't really what they wanted after all. 'We don't let just anyone join our team," comments Bedros. There's an application process each interested party has to go through AND pass in order to even be considered as a franchisee.
"As with all my fitness journeys I have learned through trial and error what works and what doesn't. And because of this, Steve and I are there every step of the way when a franchisee opens a new location," says Bedros. "We are laser-focused in mentoring successful Franchise Owners by helping them cultivate, develop, and foster long-lasting and loyal relationships with their end-clients by ensuring that they are passionate in who they are, what they do, and how they do it."
Opening a fitness boot camp requires a lot of dedication and passion. But it also requires business and personal training marketing strategies to get the boot camp afloat and keep it afloat. These are the things the Fit Body Boot Camp team helps each franchisee with.
New franchise owners take a training course that provides hands on training and at the same time have an online course involving center build-out, marketing and sales. "Our program takes you back to school," says Steve. "But that is one of the reasons our members are successful right from the get-go."
Starting your own fitness boot camp is an exciting journey and can be a quite successful one if you have a solid system in place. As with any business, when you have the right tools, the right systems, and an awesome marketing strategy, success is not that far away.
###
PTPower is the unconventional and out-of-the box ideas, systems, and strategies for maximum fitness profits headed by Bedros Keulian.To find out more about Bedros Keuilian, his company PTPower.com and the Fitness Boot Camp Franchise Fit Body Boot Camp, contact Bedros Keuilian at (800) 261-0208. Alternatively you may use the contact form at http://ptpower.com/contact-me/ or send an email to Bedros Keuilian at support(at)keuilian(dot)com.