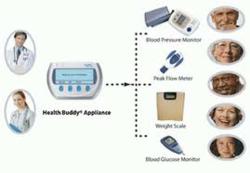 (PRWEB) April 06, 2012
With healthcare costs perpetually on the rise, the Pittsburgh-based company Automated Security Alert is helping patients with chronic illnesses reduce their medical expenses and medical visits with their newest product offering called the Health Buddy. The Health Buddy is a small and very simple electronic device that can make monitoring chronic health conditions much easier. Jason Seyler, Automated Security Alert's Director of Life Safety explained the way the simple technology works by stating, "With the Health Buddy people with chronic diseases no longer need to go see their doctor as often because this device allows the patient to send their vitals and answer pertinent questions about their disease right from their home, and then the Health Buddy sends the data to the appropriate healthcare professionals. Their disease is monitored daily from their home."
Automated Security Alert offers different Health Buddy devices that cater to different needs, allowing individuals to choose the type of healthcare monitoring that is the best choice for them. Some of the different monitoring devices can record blood glucose levels, blood pressure, pulse, blood oxygen saturation, and weight. Besides being able to save money on frequent medical visits, the Health Buddy can save patients the time and trouble of having to leave their house for medical visits which can be a great advantage for patients who have mobility issues or are unable to drive.
Automated Security Alert, Inc., has provided freedom and security since 1988 to over 60,000 consumers through the use of technology and services that enable seniors, physically-challenged persons and recovering patients to maintain an independent lifestyle in their homes. ASA's creative, dependable solutions include medical alert systems(personal emergency response systems); fall detection systems; telehealth and medication management systems, including electronic pill dispensers and monitored medication dispensers.
For further information, please contact Matthew Couillard at 1.800.338.7114.