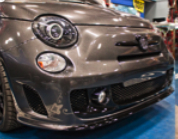 Custom front end manufactured by Lester and distributed by 500 MADNESS.
Signal Hill, CA (PRWEB) April 06, 2012
500 MADNESS, the largest supplier of FIAT 500 aftermarket parts and accessories in North America, provided its expertise to help West Coast Customs (WCC) design a 2011 FIAT 500 Sport Model for their hit TV show Inside West Coast Customs airing on Velocity Network, Sunday April 8, 2012 at 9pm EST/ PST. World renowned for their extreme vehicles, outrageous features and unique designs, WCC depended on 500 MADNESS for many aspects of the custom vehicle.
"We approached 500 MADNESS because we knew they're the best in the business and would be able to provide any FIAT 500 part we needed for this project," said WCC Project Designer Meagan Elliott. "Of course, they came through as always and the FIAT 500 ended up being an amazing creation."
500 MADNESS supplied WCC with custom front and rear bumpers, side skirts and spoilers from Lester, Custom MADNESS Mirror Covers, Custom Interior Upgrades from BLACK and Magneti Marelli, Brake Upgrades by SILA Concepts, Performance Upgrades by Borla and Sprint Booster, MADNESS-designed HID Lighting Upgrades, and other complimentary parts and accessories. In addition, exclusive Lowering Springs were provided by MADNESS to improve the handling and look of the FIATTM 500.
About 500 MADNESS:
500 MADNESS is the largest U.S. provider of FIAT 500 accessories, custom body kits, performance and handling upgrades, custom wheels, and much more. With a large number of products in stock (and countless new ones in development), 500 MADNESS helps provide FIAT 500 owners and customizers with everything they need to customize their vehicle.
Based in Signal Hill, CA, MADNESS AUTOWORKS serves as the home to both 500 MADNESS and SMART MADNESS, the largest in stock inventory of parts and accessories for smart cars in the world. Founded in 2008, SMART MADNESS has over 600+ products that are ready to ship, helping drivers and customizers build the perfect smart car for their exact needs and specifications abroad or on site at their Signal Hill, CA facility. For more information please visit, http://www.madnessautoworks.com, http://www.500madness.com and http://www.smartmadness.com
500 MADNESS is an independent site and company that is not affiliated with FIAT USA, FIAT Group, FIAT ABARTH, or FIAT ABARTH USA. Copyright © 2010 500 , LLC. All rights reserved. 500 MADNESS, and the 500 MADNESS logo are trademarks and/or registered trademarks of MADNESS AUTOWORKS, LLC. in the U.S. and/or other countries. All other company and/or product names, descriptions, or written content may be trade names, trademarks, and/or registered trademarks of the respective owners with for which they are associated.