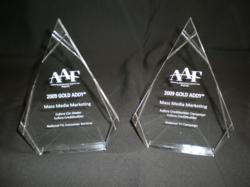 "Tommy Constantine is a marketing genius."
Scottsdale, AZ (PRWEB) April 07, 2012
Tommy Constantine founded the Eufora® prepaid and credit card company in 2001 and shortly thereafter invented its patented Credit Builder prepaid card product. Since its introduction, industry experts such as cardratings.com, have suggested that it may be "one of the most innovative credit cards" with "the most interesting concepts"and named it a "Top Rated Card" in 2003.
Over the years Constantine has methodically expanded and refined the intellectual property behind its unique products. Recently he took another big step to expand the company's presence in the marketplace by developing an in-house TV ad campaign and began advertising the product nationally.
"I considered a number of agencies to do the creative, but ultimately decided to give it a try on my own," stated Constantine. "I had some ideas that I thought were funny and would be effective. I reached out to a friend from my days at Playboy Racing, who had shot some footage for a sponsor and asked him to help me shoot the Eufora campaign."
That friend was Rick Donaldson at Mass Media in Augusta, Georgia.
"I met Tommy when he was racing for Playboy and we shot a commercial for one of his sponsors at the track," said Donaldson. "Tommy contacted me and shared his concept for the Eufora commercials and campaign. We auditioned all the talent and shot the campaign in various locations around Augusta," stated Donaldson. "Tommy couldn't make the auditions or the shoot but it was great, he directed the whole thing over Skype™!"
Eufora Co-Founder and Chief Marketing Officer Mark D'Ambrosio couldn't be happier with the result of the campaign. "Tommy Constantine is a marketing genius," said D'Ambrosio. "I've worked with him for a long time and he never ceases to amaze me," stated D'Ambrosio. "He came up with the entire concept and even wrote the script in an afternoon which saved the company a lot of time and money."
Donaldson and his team also liked the campaign so much that they decided to submit it to the American Advertising Federation for consideration for the coveted Addy Award. Constantine was not even aware that the commercials had been submitted until he won the two awards.
"I was blown away when Rick told me the news," said Constantine. "It was very gratifying to win such a prestigious award as a first time writer/director and I thank Rick and Mass Media for all of their help and for even thinking to submit it to the AAF," stated Constantine.
ABOUT EUFORA, LLC
Headquartered in Scottsdale, Arizona, Eufora was founded in late 2001. Eufora provides its members with a co-branded MasterCard® prepaid card which provides exclusive member benefits to its cardholders. The Eufora Prepaid Card is also the only prepaid card that reports to the major credit reporting agencies. Eufora holds several patents for its exclusive prepaid card credit reporting products.