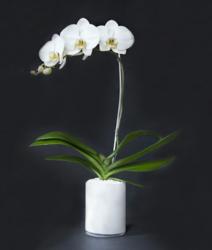 "I always talk about how luxurious and sexy Orchids are," The Orchid Diva says, "and I decided to create a new look for my shop to help my Orchids shine even more."
New York, NY (PRWEB) April 06, 2012
OrchidDiva.com updated look and easy navigation will make ordering Orchid arrangements in NYC very fast and enjoyable, according to the "Orchid Diva" herself, floral designer and model Juliette Vassilkioti. 
Established in 2011, Orchid Diva is the only company in New York that specializes in creating and delivering one-of-a-kind arrangements from live Orchid plants hand-picked from local growers. Same-day delivery is guaranteed seven days a week throughout the New York City.
A living symbol of love
Juliette Vassilkioti, founder of Orchid Diva, says it's her mission to bring a touch of glamour to the city. The flower is an ancient symbol of love, luxury, wealth and strength. As such, Orchids are a perfect complement everywhere from the bedroom to the boardroom.
"We create custom arrangements for boutiques, restaurants, beauty salons, spas, homes – anywhere people respond to design and beauty," Juliette Vassilkioti says. "Anyone who comes in contact with these flowers is amazed how they combine delicacy and power."
The Orchid Diva posed for fashion photographer Chuck Baker to create full harmony with the site's new design. "I always talk about how luxurious and sexy Orchids are," The Orchid Diva says, "and I decided to create a new look for my shop to help my Orchids shine even more."
New services
Together with redesign of online shop, Orchid Diva introduced two new services:
Custom Design with live Orchid plants: For clients interested in a highly personal statement, Orchid Diva will meet, consult and create Orchid arrangements specially designed for their space or event.
Special Order Collection: Customers can now order Orchid arrangements that combine different breeds of Orchids. Joining the most popular version, Phalaenopsis Orchid, the special collection can also integrate such rarities as Oncidium, Dendrobium or Lady Slipper Orchids for an exciting mix of color and texture.
For decorating, anniversaries, birthdays, retirements, holidays, or just as a token of affection or respect, Orchid Diva is the one-stop New York online Orchid shop for interior designers, business owners, event organizers and anyone who wants to experience the "Orchidful" life in New York City.