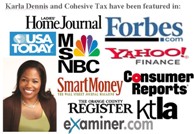 Karla has been a tremendous help to my family in realizing the importance of pro-active tax planning. I give Karla Dennis and the staff members at COHESIVE™ the highest possible recommendation as your tax professional.

-David Tombs, Phd -CA
(PRWEB) April 05, 2012
This is an announcement of the latest monthly webinar to be given by one of the nation's foremost tax authorities, Karla Dennis.
Join Karla as she speaks on the most commonly asked questions that arise toward the end of this tax season.
Karla Dennis invites you to a "Just Ask Karla Teleconference: Karla Answers The Most Pressing Tax Season Questions." Karla receives a lot of questions once tax season is underway, featuring questions from her clients and the public at large.
A lot of the inquiries tend to be similar in nature and of the same topics, so listen as she selects the most pressing questions she has received and answers them as only she can.
In order to benefit form this webinar, anyone interested is encouraged to attend by registering at the link below. It will be available starting at Tuesday April 10th at 5:50pm (Pacific), click the link below to read about it and sign up to join if you haven't already.
Click Here To Register For The Webinar
Everyone is invited to listen in on this call for free so they can learn the most common issues that crop up during the hectic tax preparation season, and so they can learn what to do if any of the common situations apply to them.
Karla Dennis is CEO and owner of Cohesive Tax™, a tax planning firm.