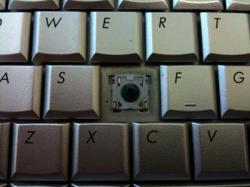 Fast Delivery, Easy Install, and they saved me $100!
Orange County, CA (PRWEB) April 10, 2012
Affordable Laptop Keys
It is unnecessary to waste hard-earned money on a new laptop computer, if the only problem is a broken or damaged laptop key. Replacement Laptop Keys is an online business that provides individual laptop keys for all brands and models of laptops and notebook computers. This user friendly website allows consumers to simply enter the model number of a computer, and purchase the laptop key or keys needed for repairs.
Single Laptop Keys Can Be Replaced
Millions of people rely on Apple and Dell computers for daily tasks, business, and web surfing. Sooner or later, a key tends to get damaged, not work properly, or pop off. Sometimes the letter or number even wears off, due to excessive typing. Unfortunately many people are under the impression that a new keyboard, or even a new laptop is required. This is where Replacement Laptop Keys can help consumers, businesses, and computer owners save money. This online business/service has already catered to over 50,000 customers worldwide.
Installing a Replacement Computer Key
Those unfamiliar with computers and keyboards are certainly not alone. This is why Replacement Laptop Keys provides free installation guides, which includes video tutorials on how to replace specific keys. Live chat assistance is additionally offered to all customers, free of charge. Business hours are 10:00 am to 5:00 pm Monday-Friday (Pacific Standard Time).
There is no reason to leave home to seek out professional assistance for damaged laptop keys. Web-based experts like Replacement Laptop Keys can assist you with getting the replacement key you need, and getting it installed promptly and painlessly. Same day shipping is offered, as well as a 100% satisfaction guarantee.
Replacement Laptop keys has been in business since 2005, and continues to help PC and Mac owners every day. The broad selection of laptop computer brands, which now includes Apple and Dell is one attribute that truly makes this online business stand out. Regardless of the laptop key required, this computer service has it in stock, and ready for shipment. Customers can feel free to check out http://www.ReplacementLaptopKeys.com, or email info@replacementlaptopkeys.com for more information.