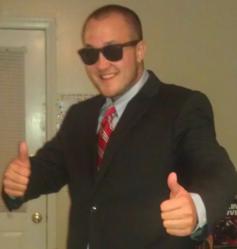 I am ready to jump into the world of talk show hosts and represent my generation of creative entrepreneurs.
(PRWEB) April 07, 2012
Steve McGarry states, "It is time for someone younger than the usual talk show host to step up and do a show for our creative generation and push all of our great ideas to success." He also claims that the show he has pitched to producers involves an "American idol" style voting technique for viewers to "back up" or vote for the young inventors and their inventions throughout the show.
America's intellectual property being valued in the billions of dollars, there have not been many below the age of 30 to scratch the surface of one of America's most valuable assets, until now. Who would have thought it would be someone with only 23 years under their belt, strong entrepreneurial spirit, and one simple design patent.
"Entrepreneurs are hidden everywhere, and they need to be brought to the surface where they can have a chance to change the world, just like all the Hollywood big shots. I am trying to get this show rolling for all of America to get involved as a whole, and back up the people with the best ideas, young adults." McGarry stated in an interview in Raleigh, NC Sunday.
There are many talk shows now on television with interesting and funny hosts that we all know and love. Steve McGarry states that if investors and producers help him start this talk show, he will step forward and be the spokesperson for his generation of young inventors to help bring the future directly to America's televisions. Bold words from a recent college graduate.
He said that he wants people to back him and his project through Facebook and Twitter @TheSteveMcGarry because that is how we can make our points now-a-days, through Social Networking. Producers and Investors should contact Steve through e-mail only.