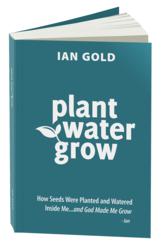 'My dad,' I said... Everyone in the room immediately looked at me as if I had given the [police] officer the wrong answer... 'No wait, I want to live with mom!' Having just turned five, I had no clue as to why I had to answer such a perplexing question.
Los Angeles, CA (PRWEB) April 09, 2012
Torn between the little boy within and the womanizer he had become, following his eighth and final season as a member of the NFL, Ian Gold hears the voice of God say, "You have been useless to me!" In response to God's rebuke, Gold makes a life changing decision to walk away from the NFL, and the lifestyle of luxury and pleasure it afforded him.
Gold's transparency is sure to captivate the hearts and minds of readers as he recounts the heartache, rejection and loneliness he experienced as the middle child of four boys raised by a single mother, candid and explicit accounts of sex, deception, hurt and pain from his four years at The University of Michigan and eight year NFL career, along with his ultimate self-discovery–being useless to God.
Through his memoir, Gold illustrates to a fatherless generation, what happens when good seeds are planted and watered, and God makes them grow.
Subsequent to graduating from the University of Michigan with a degree in political science, Ian Gold was selected by the Denver Broncos with the fortieth pick in the 2000 NFL Draft. Since retiring from football, out of his growing desire to become useful, Gold has founded http://www.WhatAreKidsSaying.com, a website that offers kids and teenagers a platform to express their hearts and minds through creative writing, produced a music album [A Lion's Heart] and also traveled extensively throughout the US and beyond - all prior to writing his personal memoir entitled "Plant Water Grow."
Gold is currently on what he considers to be "the journey of a lifetime." To learn more about "Plant Water Grow" and Gold's present day journey, please visit his personal website: http://www.plantwatergrow.com. If you wish to order a copy of "Plant Water Grow," you may do so by clicking on one of the following links: Barnes and Noble or Amazon.