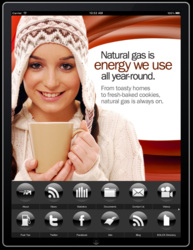 America's energy future is our top priority and we take great pride in educating the public on what this industry can do and mobile applications have become a powerful communications tool in our outreach
Austin, TX (PRWEB) April 06, 2012
Purple Forge and the American Petroleum Institute were honored with two Pollies™ for the mobile applications (http://myappsinfo.com/api/) developed for advocacy of the petroleum industry at the annual American Association of Political Consultants (AAPC) awards held in Austin, TX on Friday, March 30. The Pollies™, considered the Oscars of political consulting, are scored and awarded by a blind panel of industry judges chosen from inside the association.
"America's energy future is our top priority and we take great pride in educating the public on what this industry can do and mobile applications have become a powerful communications tool in our outreach," said Marty Durbin, Executive Vice President of the American Petroleum Institute. " We are now able to reach thousands of Americans every day with apps on their mobile devices – people who care about creating new jobs and securing more of the energy we need. These awards serve as further proof that U.S. energy security matters and that the public is paying attention."
The API mobile applications were developed to engage both the public and legislators with critical information about the oil and gas industry in the U.S. New rules in Congress have allowed legislators to carry mobile devices into the house, and with energy policy taking center stage in the 2012 election campaign the API apps allow the public and decision makers to carry production and employment data at all times.
"The American Petroleum Institute was able to recognize the opportunity with the new house rules and put what would have been binders filled with paper into an application that is readily accessible to any legislator," said John Craig, VP Sales and Marketing. "By placing an Economist-like 'Book of Numbers' on the oil and gas industry into the hands of legislators, they are helping to create fact-based debate that will lead to better overall legislation for the public."
The mobile applications are available for download on the iPhone, iPad, BlackBerry and Android devices.
About the American Petroleum Institute
API represents more than 500 oil and natural gas companies, leaders of a technology-driven industry that supplies most of America's energy, supports 9.2 million U.S. jobs and 7.7 percent of the U.S. economy, delivers more than $86 million a day in revenue to our government, and, since 2000, has invested more than $2 trillion in U.S. capital projects to advance all forms of energy, including alternatives.
Media Contact:
Reid Porter
202.682.8114
porterr(at)api(dot)org
About Purple Forge
Purple Forge is the leading provider of mobile apps to politicians, PACs and associations in the world. Our applications are developed around the principal of mobile community engagement. This allows these organizations to broadcast their information to their target audience, who in turn share this information and perform activities for the benefit of all.