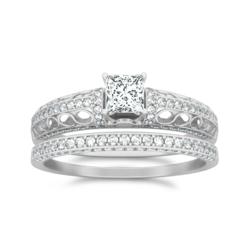 In this tough economic times, providing affordable wedding rings is key to our growth
Cockeysville, MD (PRWEB) April 07, 2012
Online discount diamond jewelry retailer, JewelOcean.com has announced on 6th April 2012, that it has created and revamped its line of diamond rings to offer Cheap Wedding Rings to its customers. Customer demand for affordable jewelry is constantly increasing. According to JewelOcean.com, the demand for cheap wedding rings has increased three fold on its website.
"In this touch economic time, providing affordable wedding rings is key to our growth", says Mathew Bruno, manager at JewelOcean. Customers looking for inexpensive wedding rings can find such deals on JewelOcean.com. Beautiful princess cut wedding rings, retail from just $299 onwards, providing customers' huge potential savings. 1 carat diamond wedding rings retail from just $699 onwards.
Mr. Bruno adds further that buying wedding rings for women is not an easy task. When it comes to diamond rings, men normally have little to no clue. Even finding the correct wedding ring size is not an easy task, if the diamond ring is planned as a surprise. Therefore with its collection of cheap wedding rings, JewelOcean.com has also announced that it would offer free resizing to its customers. This would be a very good deal for a potential customer who needs rings size adjustment after he has proposed to his girlfriend. The free wedding ring size adjustment deal is however is available for orders received during April 2012 only.
Finding discount wedding rings has become easier on JewelOcean website. Customers can easily customize the rings based on their choice of center diamond, with the options ranging from princess cut diamonds, round cut diamond and certified Gia center diamonds. Customers can also customize their wedding rings with either 10k, 14k or 18k white and yellow gold rings.
JewelOcean.com specializes in providing cheap wedding rings. The online diamond jewelry store offers free shipping, refund policy and 24/7 customer service. The website has received thousands of positive customer reviews and ratings as it believes that customers always come first.