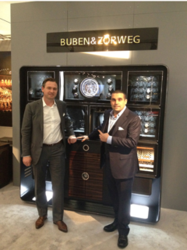 Everything started with the passion for watches
New York, NY (PRWEB) April 06, 2012
Haute Time, the ultimate resource for luxury timepiece aficionados, presents exclusive video content behind top-tier watch brands from all over the world. Haute Living Co-publisher and Haute Time curator Seth Semilof toured Buben & Zörweg alongside brand co-owner and partner Harald Buben for an up close look at the newest and most advanced products yet, including a special collaboration.
"Everything started with the passion for watches," Buben told Semilof. "Our company is almost 20 years old. I started with my best friend and partner Christian Zörweg during college. We both had passion for watches, quality and nice things."
To say that Buben & Zörweg builds luxury safes is a gross understatement. The brand crafts only the most upscale and personalized spaces to store everything from cigars to jewelry, especially haute timepieces.
Buben showed Semilof three incredible pieces, each as elaborate and intricate as the timepieces kept inside. Amongst the pieces shown was the Aston Martin Object of Time One-77, in collaboration with the haute car company. "It makes me very proud that companies like Aston Martin come to us, which actually is what happened," shared Buben. The Time-One 77 is complete with humidors, four world clocks, time-mover watch winders and an iPod-compatible sound system.
Gaining an inside look at the industry's star timepieces directly from the company CEOs demonstrates the respect and passion Haute Time reserves for luxury watches and their corresponding brands. View the video tour with Buben here, and explore the many wonders of Basel World 2012 at http://www.HauteTime.com.
http://www.hautetime.com/feature/haute-times-exclusive-tour-of-buben-zorweg-with-harald-buben-at-basel-world
About Haute Time
Haute Time curators realize that luxury watches are more than style statements; they're representative of an individual's personality, aesthetic and attitude. The site features the most recent news in all things time, including new releases from the top brands, interviews with those helming these upscale watchmakers and a watch locator, which provides site visitors with authorized retailers nearby to them. Hautetime.com is frequently revised to reflect the latest in news, collections and brands, including Ulysse Nardin, Bell & Ross, Omega and beyond. Our experts regularly review the latest pieces and happenings in the market, including updates from Patek Philippe and Audemars Piguet.
# # #
For more information, please visit: http://www.hautetime.com