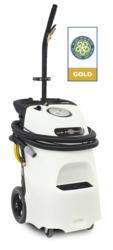 Whether you get some really good [carpet cleaning] advice or win a T-shirt, we think our Facebook visitors will find being friends with us will really have its benefits
Mukilteo, WA (PRWEB) April 08, 2012
To help promote its new Facebook site, U.S. Products, a leading manufacturer of professional carpet, restoration, and hard-surface floor cleaning tools and equipment, has begun a new program called "Friendship Has Its Benefits."
According to Doyle Bloss, marketing manager for U.S. Products, by "liking" the Facebook site and becoming a fan, visitors become eligible for such benefits as monthly prize drawings, weekly giveaways, and the big prize, a free PEX 200 Heated Portable Extractor.
The PEX 200 retails for about $3,300 and is one of the company's most popular machines.
"But I think visitors to our Facebook site will become a fan for more reasons than just the chance of winning prizes and the PEX 200," says Bloss. "We have already added a number of case studies as well as ideas and suggestions 'from the carpet cleaning trenches' that can make the job of carpet cleaning easier and faster."
Bloss' family was involved in the professional carpet cleaning industry and he has spent most of his business career in the industry. The company's Facebook site offers him a unique opportunity to share some of his many years of knowledge and expertise with its fans.
Additionally, the company's Facebook site will feature:

Sneak previews of new product introductions and innovations
New videos, including easy-to-follow equipment service and maintenance videos
Regularly updated information offering innovative cleaning and restoration procedures and techniques
"Whether you get some really good [carpet cleaning] advice or win a T-shirt, we think our visitors will find being friends with us will really have its benefits," adds Bloss. "And just by becoming a Fan means you might get a prize."
Visit us on Facebook at: http://www.facebook.com/usproductsequipment