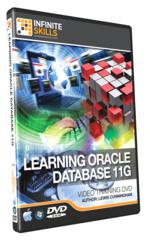 Learn Oracle Database 11G Quickly and Easily
(PRWEB) April 06, 2012
Technology training firm InfiniteSkills Inc. today introduced a new tutorial for the Oracle 11g database management system. The video tutorial is designed to offer a well-balanced and detailed introduction to the popular enterprise toolset.
With this release, InfiniteSkills answers a market demand for introductory training in Oracle. According to author Lewis Cunningham, the company found that most introductory level tutorials on Oracle did not provide new users with useful skills or usable information, only scraping the surface of Oracle's broad and diverse range of components and capabilities.
Cunningham says that InfiniteSkills' Learning Oracle 11g Tutorial balances the vastness of the Oracle system with the detail necessary to gain an understanding of the system's structure and functionality.
"We managed to cover a broad range of Oracle's capabilities while getting into a surprising level of detail in the essential areas," Cunningham says.
Oracle 11g Tutorial Video - Training on DVD
"We designed the tutorial so that learners will build an effective working knowledge of Oracle," he adds. "Our tutorial is a genuine first-step and a platform for further specialization."
Designed to help those who intend to use Oracle as a database administrator or developer, the course introduces major concepts underlying Oracle's server and database user environment, covering some fundamental tools involved in working in both areas.
Cunningham provides a detailed guide describing the structure of an Oracle database and its user interface, giving beginners a feel for what it is like to manage or administer an Oracle database system, and a platform from which they can choose their path with Oracle. The course will also help supervisors and project engineers who use Oracle, offering guidance on how to improve management capabilities through building a working Oracle vocabulary.
The Learning Oracle 11g Training Video - Tutorial covers elements of Oracle data storage, file types and functions, and database architecture. Sections are devoted to using SQL, PL/SQL, and XML with Oracle, followed by details of Oracle analysis tasks, database tasks, how to import and export data, and finally, security.
Cunningham began working with Oracle in 1993. He is an Oracle Ace Director, and Certified Professional, as well as a published author and professional database architect. He brings twenty years of experience with multi-vendor and open source databases, with applications across a variety of industries, to the InfiniteSkills team.
The complete Oracle 11G Tutorial Video course can now be ordered from InfiniteSkills for $99.95 on DVD-ROM or as a direct download. Shipping and ordering options are available for customers worldwide. Free demo videos and a full list of course contents can be found on the Learning Oracle 11g training page on the company website:
Oracle 11g Training - Video Tutorial on DVD
About InfiniteSkills Inc.
InfiniteSkills is an innovator in the field of technology software training. The firm's progressive task-oriented approach to teaching emphasizes hands-on activity, breaking difficult topics down into manageable tasks. This approach allows users to intuitively grasp a wide range of skills which can integrate seamlessly into a daily workflow. With DVDs, digital downloads, and iPad editions of its tutorials, the company delivers professional quality training to customers anywhere they want to learn.