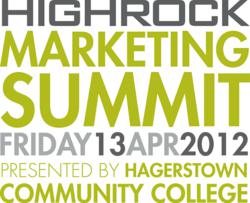 Hagerstown, MD (PRWEB) April 09, 2012
High Rock, Hagerstown, Maryland's leading digital marketing company is partnering with The Continuing Education and Community Services Division at Hagerstown Community College to host the 4th Annual High Rock Marketing Summit. The 2012 Summit will be held on Fri., April 13, from 8:30 a.m. to 12:30 p.m.
Hosted by professional speaker and author Julie Gaver, the theme of this year's conference is "The Balancing Act of Digital Marketing." Seminar topics include "Digital Spring Cleaning in 2012: Develop a Plan and Execute" with Rich Daughtridge, founder and president of High Rock; "Maximizing Your Influence Online…Without Maxing Out Your Time" with social media expert Jennifer Abernethy, author of "The Complete Idiot's Guide to Social Media Marketing"; and "Blogging and Effective Content Marketing" with blogging expert Marcus Sheridan, author of "Inbound and Content Marketing Made Easy." The summit will end with a Q&A panel featuring Daughtridge, Abernethy, and Sheridan. This year's summit will be held in the newly renovated Kepler Theater on HCC's main campus. Cost is $79. Fee includes continental breakfast. A discount rate is available to students and nonprofits. To learn more about the discount rate, call 240-500-2236. For more information about the summit, or to register, go to http://www.highrockmarketingsummit.com.