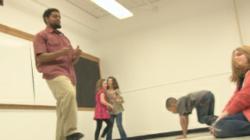 It's how my brothers and I stayed out of trouble. Breakdancing brought us together and taught us to respect one another.
Augusta, Maine (PRWEB) April 06, 2012
WATCH THE VIDEO - When Chris Harrison was growing up in the Dorchester section of Boston, he and his brothers did their best to stay out of trouble. But with a lack of kid-friendly recreational options and "nothing to do," it wasn't easy. Then he discovered breakdancing.
Today, through a volunteer position with the Augusta 21st Century program, Chris is sharing his passion and his skills with a group of young people from the area.
"In 1996, I learned how to breakdance from my cousin, right in my mom's living room," says Harrison. "It's how my brothers and I stayed out of trouble. Breakdancing brought us together and taught us to respect one another. We were known as the BFK (Bare Foot kids) because our shoes were so raggedy we danced in our socks."
The BFK practiced and entered competitions all the time. They performed at the Strand Theatre, the projects, and did community shows in Jamaica Plains.
"Sometimes we'd just go to South Station, put out a hat, and dance until we had enough money for dinner and then ride back home," recalls Harrison.
Now 26, Chris moved to Maine in 2005 with his wife, Anna, and sons Shyhim, 12, and Oriel, 10.
As the years passed, Chris and Anna settled into the area and their family grew to include a daughter, Nayjaliesse, 8, and two more sons: Nahzel, 6, and Onehl, 4.
One day, about two years ago, Chris' son Shyhim "volunteered" Chris to perform in a show that the Augusta 21st Century Program was putting on.
His act was a big hit with the kids.
A short time later, Barbara Helen Baker, coordinator for the Augusta 21st Century program, contacted Chris to see if he would be interested in volunteering.
The program, which supports the creation of opportunities for academic enrichment during non-school hours for children, helps students meet state and local standards in core academic subjects, such as reading and mathematics.
It also offers students enrichment activities that complement regular academic programs; and offers literacy and other educational services to the families of participating children.
Chris agreed to volunteer, so now he's putting his passion and b-boying skills to good use at the Buker Community Center. Each Thursday afternoon, from 4:30 to 5:30, he teaches a group of approximately 15 Augusta area youth how to breakdance.
"Some days it's pretty chaotic, but there's a lot of energy and the kids love it," adds Harrison. "Breakdancing is a great activity for them because it builds their confidence, brings them closer together, and it teaches them about themselves."
About Spurwink
Spurwink is a nationally accredited nonprofit organization with a 50-year history. We provide a broad range of mental health, educational and residential services for children, adolescents, adults and families. Spurwink offers specialized programs throughout Maine and New England that are grounded in research, outcomes and evidence-based best practices. For more information, visit http://www.spurwink.org, or call us at 207-871-1200.
About the Augusta 21st Century Program
This federally funded program, which is free to participants, aims to assist those children who need help with schoolwork to keep up in the classroom. Once those children are accommodated, the program is open to all. In order to enroll in the program, a student must be recommended by a teacher at