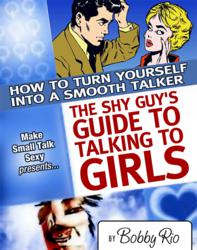 Hoboken, NJ (PRWEB) April 09, 2012
Bobby Rio, author and founder of the popular men's interest and dating advice site TSB Magazine, recently released an ebook that offers advice to introverted guys who lack the confidence and know-how to approach attractive women. The Shy Guy's Guide for Talking to Girls: How to Turn Yourself into a Smooth Talker was first published in December of last year and is now available for download on Amazon.com.
The Shy Guy's Guide breaks down the process of a first meeting between a man and a woman that he is attracted to. The book addresses many common problems that guys lacking conversational confidence face in such situations. Then, it proceeds to tell readers how to overcome these issues. Rio's insights include things like "how to recover from those moments where your mind goes blank and you completely stall out" and "how to escalate a conversation from something fun and playful to something on a more sexual level."
The Shy Guys Guide also provides advice on how to hone basic communication skills like transitioning a conversation between topics, keeping the connection moving forward, and drawing engaging conversation out of the other person in the conversation. After covering these basics, the Guide offers readers a set of tools to help them move the first flirtatious contact to the next level, using things like innuendo to turn the conversation in a more intimate direction.
According to the publisher, the overall goal of The Shy Guys Guide for Talking to Girls is to get the reader to make lasting changes to their mindset: "What this guide is going to do is completely implant the skill of carrying a conversation with a woman into your game, brain, and personality, and make it a permanent part of you." And teach the reader exactly how to talk to girls.
While giving readers the tools to embark on a mission of personality-changing and conversation-skill-development, Rio also offers ideas that can be applied immediately. He mentions the biggest mistakes that guys make during that crucial first conversation, and follows this up with a list of simple, immediately applicable ideas that can increase the chances of success. The book also addresses things like injecting humor into the conversation and creating a rapport with a woman during initial contact.
The focus of the Shy Guy's Guide is in line with much of the content found on Rio's seven-year-old website, TSBMag.com. The site is updated daily with advice about dating and acting confidently when approaching members of the fairer sex. The site also has articles about other men's interest subjects like confidence building ("inner game'), college life, travel, personal finance, business, and sports. TSB draws nearly 400,000 unique visitors each month.
The Shy Guys Guide for Talking to Girls: How to Turn Yourself into a Smooth Talker is one of nine dating-related ebooks that Rio currently has on the market, with titles like How to Keep a Conversation Going: 9 Tools to Never Run Out of Things to Say offering tips and advice that compliment the topics covered in the Shy Guy's Guide.
To learn more visit:http:// http://www.tsbmag.com