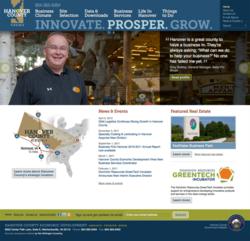 Innovation, growth and prosperity happen everyday in Hanover. We want to assert it, prove it, highlight and document the civic pride of the Hanover business community.
(PRWEB) April 09, 2012
Rick Whittington Consulting is pleased to announce the launch of the new website for Hanover County Economic Development. The website can be viewed at http://www.HanoverVirginia.com.
Rick Whittington Consulting and Hanover County Economic Development recognized the need to distinguish Hanover from neighboring counties and cities in central Virginia, and both organizations placed a premium on developing an economic development website unlike any other.
"It is imperative that economic development organizations not only present critical site selection data to prospects, but also have a unique, memorable brand," says Rick Whittington, President of Rick Whittington Consulting. "Being 'Anytown USA' is not enough to win new business investments."
The new website blends data with compelling messaging, and the result is a "different breed of economic development website" says Whittington.
In addition to key information like news and featured commercial real estate, the website's homepage incorporates original photography and interviews that tell the success stories of local businesses, which highlight Hanover's business advantages and personality.
A tagline—"Innovate. Prosper. Grow."—was also developed, and figures prominently in the new website design. "Hanover is a mostly rural suburb of Richmond, and sometimes the innovation and growth of other nearby localities overshadow Hanover. But innovation, growth and prosperity happen everyday in Hanover. We want to assert it, prove it, highlight and document the civic pride of the Hanover business community," Rick Whittington explains.
Other notable features include:
Industry-specific landing pages
Target industries have unique, dedicated landing pages that Hanover County Economic Development can direct consultants to, and reference in other online and offline marketing efforts.
News-publishing system
Hanover County Economic Development will use the site to push news to the local business community as well as prospective companies.
A map room with option to save/download maps
This page features a collection of maps that can be viewed on the website or downloaded for later use.
GIS integration
The website offers two points of integration with GIS. The site links to the county's GIS map. Prospects can also perform a GIS real estate search, via Site LoGIStics technology by Timmons Group.
Searchable business directory
The website houses a database of thousands of businesses in Hanover County. Users can search the directory by company name, industry or NAICS code, and Hanover County Economic Development can update this directory with Executive Pulse and other information sources.
Multiple real estate search tools, including custom real estate directory
Prospects can search for real estate using the county's GIS real estate search tool, the state's "Virginia Scan" search system or the website's built-in real estate directory.
This custom directory allows Hanover County Economic Development staff to specify featured sites or buildings and then build a profile that includes photographs, a description and documents for download like topographic maps, brochures, plats, master plans and more.
A web-based content management system
Any staff member can make website updates at any time via a user-friendly, web-based content management system.
Responsive design
The website was developed with all visitors in mind, including mobile audiences. One website is flexible enough to adapt to multiple computer screen sizes as well as tablets and smartphones.
"Our goal is to brand Hanover County as a great place to do business and to provide a resource for existing businesses. Rick Whittington Consulting's concept and execution really exceeded our expectations," says Edwin Gaskin, Director of Hanover County Economic Development.
"Rick and his team were able to advise us on what content needed to be included and how that content was best presented to our target audience. Their experience with the site selection community helped us tailor both our message and how it is presented," Gaskin continues. "I can't underscore enough the value of their economic development knowledge and experience."
About Rick Whittington Consulting
Rick Whittington Consulting is a website design, development and marketing strategy firm specializing in economic development marketing. The International Economic Development Council (IEDC) and the Southern Economic Development Council (SEDC) have recognized their work for economic development clients. For more information, go to EconDevWebsites.com or RickWhittington.com.
About Hanover County Economic Development
As a publicly-funded entity to promote economic development, the Hanover County Economic Development's (HCED) primary mission is to increase the county's tax base and create new jobs for its citizens. This mission is best accomplished by providing services to companies that are considering a location in the County and assistance to its existing businesses. Numerous programs, information sources, and databases have been developed to provide important information to Hanover's established business base, the corporate community, and the consultants that represent them.