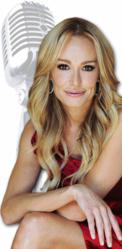 Newton, MA (PRWEB) April 08, 2012
As one of the stars of the hit Bravo reality show 'The Real Housewives of Beverly Hills,' Taylor Armstrong is no stranger to on-air drama. But behind the scenes, Armstrong's own personal drama was unfolding: she revealed that her husband, Russell, had been physically, verbally, and emotionally abusing her for years.
Armstrong, who shares her story in the New York Times best-selling memoir 'Hiding from Reality,' is now embarking on a national speaking tour to share her poignant, heartfelt keynote speeches with audiences of domestic abuse survivors.
"Taylor is a passionate advocate for her cause, and you can feel that passion in every word she speaks," says Robert Walker, CEO and founder of the American Program Bureau, an international speakers bureau that represents Armstrong exclusively. "Her story is powerful and we can't wait to help her share it."
Communities who are interested in hosting Taylor Armstrong should contact the American Program Bureau at 800-225-4575.
About the American Program Bureau (APB):
In business since 1965, the American Program Bureau represents a roster of high-profile speakers from entertainers and politicians to thought leaders and academics. Learn more about APB at APBspeakers.com or find APB on Twitter @apbspeakers.