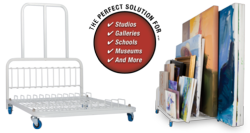 The Jerry's family has been totally supportive and believe in the product as much as I do.
Raleigh, NC (PRWEB) April 09, 2012
The latest innovation for organizing a studio, gallery, frame shop, museum and more!
Artists see "new and improved" products all the time, but rarely do they see an art product they've never seen anywhere before. Now, they can with the debut of the revolutionary new Dryden Art and Canvas Keeper exclusively at JerrysArtarama.com.
Artists who use stretched canvases have always been bedeviled with the problem of how to store them neatly and safely without building large, permanent structures which often cause as many problems as they solve. Most artists would be skeptical if you told them you'd found a product that you could lift with one hand that would effectively organize two dozen canvases of practically any size, because there has never existed a mobile device that securely holds that many stretched canvases upright and keeps them separated and easily accessible.
The brain trust (decision-makers?) at art-supply giant Jerry's Artarama recognized the unique practicality of the simple-yet-effective device and agreed to manufacture and market inventor Mack Dryden's ingenious design. Dryden is a comedian and speaker by trade, but is a garage tinkerer who enjoys solving problems. When his artist wife Teri asked him to build something to help her organize her out-of-control collection of canvases of different sizes, he tried a number of designs before realizing that a canvas could be held upright with only two of its sides captured in slots.
His first prototype was a plywood model that was crude in appearance but worked so well that several of Teri's artist friends asked if he'd build them one. After refining the design several times, he had a metal fabricator make what would become the basic design of the Floor Model out of bent and welded steel rods. After Teri told him it would be nice to have a more compact version to transport smaller canvases in her car, he designed the Table Model. When he saw her moving the smaller one from floor to table to shelf as work surfaces filled up, he designed the Wall Mount so she could easily hang it up and out of the way.
Although they're now permanent residents of Louisville, KY, the Drydens were both working actors and lived in Los Angeles for 30 years. With their performing experience, it made sense that they'd be tapped to demonstrate the Canvas Keepers in the How-To videos on the Jerry's Artarama web site.
"We're very excited to introduce it to the world," said Dryden. "The Jerry's family has been totally supportive and believe in the product as much as I do. My wife has been saying for years that she doesn't know how she'd live without her canvas keepers, so we're hopeful that a lot of other artists will come to the same conclusion."
Jerry's Artarama is dedicated to providing art supplies and materials at the lowest prices. For more information, videos and pictures, please visit http://www.JerrysArtarama.com. Keyword searh: Drydenorganize