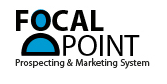 Piscataway, NJ (PRWEB) April 09, 2012
FocalPoint, a complete online prospecting and marketing solution for companies with distributor networks, has seen a large influx of new clients over the past several months. FocalPoint provides distributor versions of each client's lead capture pages and marketing site by replicating them. The past few months have shown a very large increase in distributors using these replicated sites.
Over the past few years, there has been a substantial increase in network marketing companies. This resulted in an increased need for a website solution that would be suitable for these networks. In this regard, FocalPoint has stepped up to the plate and provided a unique solution in the form of their prospecting and marketing system with replicated sites.
Replicated sites have so much to offer network and direct marketing clients. The FocalPoint team works closely with each client to create lead capture pages and a marketing site designed just for their network. Social media integration and a live chat feature that enables prospects to engage in conversation with site owners round out the product nicely.
FocalPoint offers the ability to produce personalized flyers and business cards. Replicated sites also allow distributors to use custom web forms and email campaigns to market to existing customers or expand their client base by attracting new prospects. An integrated audio and video manager enables distributors to upload video content to their replicated sites.
About FocalPoint
FocalPoint is the industry-leading, fully customizable all-in-one marketing and training solution designed to meet the needs of network marketing teams and direct sales companies. FocalPoint is the answer to providing distributors with an expertly branded and replicated online system, complete with the full suite of integrated tools, services, and training they require to succeed individually. It includes lead capture pages with autoresponders, email broadcasts, replicated websites, and a built in contact manager that allows distributors to track prospects' interaction with their site.