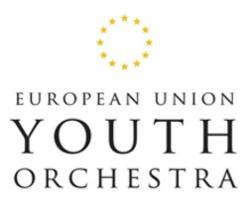 "Mr. Ashkenazy clearly conveys the reason a youth orchestra can book sold out performances."
Wake Forest, NC (PRWEB) April 06, 2012
WCPE's Community and Arts Liaison Tara Lynn announces an interview with Maestro Vladimir Ashkenazy on the program As You Like It, Wednesday, April 11, 2012 1 p.m. ET. The conductor discusses the upcoming performance of the European Union Youth Orchestra at Memorial Hall in Chapel Hill, NC on April 13, 2012 at 8 p.m.
"Mr. Ashkenazy is an excellent spokesperson for the orchestra," offers Lynn, who is also As You Like It host. "He clearly conveys the reason a youth orchestra can book sold out performances as well as how professional they truly are at a young age."
"I feel very excited about the performance," she adds. "I think our listeners will feel the same way."
The European Union Youth Orchestra's 116 young musicians, hailing from 27 countries, exemplify the unifying role of the arts. Before their concert, join the Slovenian Ambassador to the U.S., Roman Kirn, and the Center for European Studies for an informal discussion on how the arts bring together the diverse languages and cultures found throughout Europe. This free event will be held at 6:30-7:30 p.m., April 13 at Historic Playmaker's Theatre, 282 East Cameron Avenue, Chapel Hill, NC.
Individual young musicians from a different EU country have been posting short messages about their experience with the EUYO and how they feel about the US tour at https://www.facebook.com/EuropeanUnionYouthOrchestra.
About The European Union Youth Orchestra:
The European Union Youth Orchestra unites Europe's most talented young musicians under some of the world's most famous conductors, in an orchestra that transcends cultural boundaries and performs all over the world to the highest international standards. The EUYO was founded in 1976 by Bostonian Joy Bryer and her husband Lionel, with a view to creating an ensemble that would represent the European ideal of a community working together to achieve peace and social and cultural understanding. Maestro Claudio Abbado, the Orchestra's Founding Music Director, established the EUYO as a world-class institution, with the support of its first President, Sir Edward Heath. Claudio Abbado was succeeded as Music Director in 1994 by Bernard Haitink, who in turn was succeeded in 2000 by the EUYO's present Music Director, Vladimir Ashkenazy.
About WCPE:
WCPE broadcasts on a variety of FM frequencies in Eastern North Carolina and is heard throughout Eastern and Central North Carolina and Southern Virginia from its transmitting tower in Wake Forest, NC and other repeater stations. A live feed is also available on the Internet at http://www.theclassicalstation.org, cable systems, affiliate radio stations and via satellite. WCPE is a non-commercial, listener-supported station that plays classical music exclusively. WCPE is owned and operated by the Educational Information Corporation, a North Carolina non-profit broadcasting organization. The Corporation was formed in 1973 and began operating WCPE in July of 1978. The Corporation holds a federal 501 (C) (3) Public Charity Exemption Certificate and the corresponding certificate from the State of North Carolina.
Media Contact:
Curtis Brothers
919.556.5178
curtis(at)TheClassicalStation(dot)org