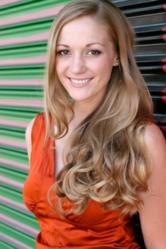 I cannot express to you how essential Vectorworks and Lightwright are to my design process, any lighting designer's process for that matter.
Columbia, Md. (PRWEB) April 06, 2012
Nemetschek Vectorworks, Inc. extends congratulations to Karyn Lawrence, winner of the iSquint.net and Stage Directions Student Lighting Design Competition (SLDC), sponsored by Nemetschek Vectorworks, City Theatrical and Field Template. Lawrence is a student at University of California, Irvine completing an MFA in Lighting Design. Her entry of "Abraham and Isaac in Jerusalem" was a realized design, performed at the UC, Irvine Claire Trevor Theater in September of 2010 under the direction of Dr. Robert Cohen. She will receive a prize package including a professional license of Vectorworks® 2012 with Renderworks® software, a personal license of Lightwright™ 5 and a single license of Field Template™ SoftSymbols V3. She will also receive copies of Light Plot Deconstructed by Gregg Hillmar and Entertainment and Lighting Design with Vectorworks Spotlight by Kevin Lee Allen.
"I am so grateful for this opportunity!" said Lawrence. "I cannot express to you how essential Vectorworks and Lightwright are to my design process, any lighting designer's process for that matter. I can honestly say that I am not sure how I would go about designing without both of these invaluable programs. Vectorworks and Lightwright were key to keeping my show organized and updated. They also played an integral role in communication, specifically the lighting renderings, which were used by both the scenic designer and myself to communicate our ideas to the director."
Entries were judged by a panel of industry experts including: lighting designer, writer and editor Justin Lang from iSquint; software engineer and lighting design industry expert Kevin Linzey from Nemetschek Vectorworks; author and lighting designer Steve Shelley of Field Template, developer of SoftSymbols; lighting designer, author and Vectorworks expert Gregg Hillmar; lighting and scenic designer and author Kevin Lee Allen; and lighting designer and developer of Lightwright, John McKernon.
To view images from the winning design, please visit iSquint.net: http://isquint.net/2012/winner-of-the-2012-student-lighting-design-competition-is/
About iSquint.net
iSquint.net covers new technologies and services within the entertainment lighting industry. iSquint specifically covers new and interesting products that working professionals, students and enthusiast in the industry want to know about. iSquint also provides reviews and greater understanding of lighting products by talking with industry professionals and testing out and reviewing lighting gear. For more information, visit http://isquint.net
About Stage Directions Magazine
Stage Directions Magazine is dedicated to all aspects of theatre and reaches more than 9,500 venues—from the largest theatrical houses to high-schools with a theatre on campus, and everything in-between, including universities and colleges, per- forming arts centers, churches, community theatres, equity theatres and museums. For more information, visit http://www.stage-directions.com.
About Nemetschek Vectorworks, Inc.
Nemetschek Vectorworks, Inc. is a wholly owned subsidiary of Nemetschek AG and has been developing software since 1985. The Vectorworks line of software products provides professional design solutions for more than 450,000 designers in the AEC, entertainment and landscape design industries. With a tradition of designing flexible, versatile, intuitive and affordable CAD and BIM solutions, Nemetschek Vectorworks continues to be a global leader in 3D design technologies. For more information, visit http://www.vectorworks.net.
For more information about the judges and other sponsors:
John McKernon, Lightwright: http://www.mckernon.com
Steve Shelley, Field Template: http://www.fieldtemplate.com
Gregg Hillmar, Gregg Hillmar Designs: http://www.hillmardesign.com
Kevin Lee Allen, Kevin Lee Allen Designs: http://klad.com