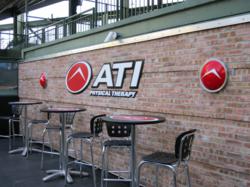 we are proud to put our name on the ATI Club, an incredible seating area that provides fans the best experience at the ballpark.
Milwaukee, WI (PRWEB) April 06, 2012
ATI Physical Therapy is excited to announce a multi-year partnership with the Milwaukee Brewers that includes naming rights to the right field seating area at Miller Park. The seating area, now called the ATI Club, is located at Field Level, directly behind the right-field wall.
ATI has been the Official Sports Medicine Partner of the Milwaukee Brewers since 2009. The new sponsorship agreement elevates ATI's partnership with the defending National League Champions.
"At ATI, we align ourselves with the best. We are excited about working with the Milwaukee Brewers organization and we are proud to put our name on the ATI Club, an incredible seating area that provides fans the best experience at the ballpark," said Dylan Bates, Chief Operating Officer, ATI Physical Therapy.
The ATI Club, which features seating and refreshments for 75 guests, provides fans a ground level view of the action on the field. Tables, the brick wall, and even lights are branded with the ATI Logo, and the entire park and television viewing audience will see a large ATI logo emblazoned on the outfield wall.
"We are excited to build upon what has already been a great partnership with ATI," said Brewers Chief Operating Officer Rick Schlesinger. "We thank them for their commitment to the Brewers and look forward to bringing the upgraded amenities of the ATI Club to our fans all season long."
ATI, Southeast Wisconsin's leader in physical therapy, now has 11 clinics in Wisconsin with locations in Greenfield, Kenosha, Mequon, Milwaukee East Side, Milwaukee Third Ward, New Berlin, Racine, Sheboygan, Waukesha, Wauwatosa, and West Allis. With over 160 locations nationwide, ATI is known for exceptional results, personalized treatment plans, and an upbeat and fun atmosphere.
The largest employer of Athletic Trainers in the nation, ATI Sports Medicine has affiliations with more than 130 universities, high schools, clubs, and professional athletic teams; including the Milwaukee Bucks, the Milwaukee Mustangs, and the Wisconsin Warriors. Specialists in the prevention and rehabilitation of injuries, ATI athletic trainers understand the complexities of high–level functional rehabilitation, the athlete's expectation for a quick return to play, and the issues that face the player, the family, and the coaching staff.
With corporate offices in Bolingbrook, Illinois, ATI Physical Therapy is a nationally recognized orthopedic rehabilitation provider, specializing in research-based physical therapy, sports medicine, work conditioning/hardening, functional capacity assessments, aquatic health, hand therapy, and women's health. ATI has been named "Best Physical Therapy Practice in the Nation" by Advance Rehab Magazine and has earned URAC Core Accreditation, a mark of distinction that recognizes ATI's commitment to quality health care. For more information, visit http://www.ATIpt.com.