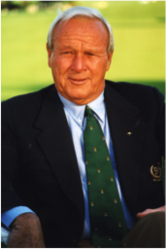 "It certainly is important that golfers heed the guidelines being put forward by the Sun SafeTee Program for their protection against the sun and avoidance of skin cancer."
- Arnold Palmer
Reston, VA (PRWEB) April 06, 2012
As the Master's tournament in Augusta, Georgia continues with forecasters predicting a brilliant sun producing a UV index rated as "very high," the Entertainment Industries Council, Inc. (EIC) collaborates with the Sun SafeTee program to increase awareness of the dangers of excessive sun exposure with the "Block the Sun, Not the Fun" campaign.
"It certainly is important that golfers heed the guidelines being put forward by the Sun SafeTee Program for their protection against the sun and avoidance of skin cancer," said renowned golfer Arnold Palmer.
Did you know 1 in 5 Americans will develop skin cancer in their lifetime? What about the fact that 1 million people will be diagnosed with skin cancer in the U.S. this year? How about this one: golfers are at especially high risk thanks to tee times at peak sun (10am-4pm), little shade on the links, and chances increasing by 20% for those who play at least 2 rounds per month.
Skin cancer is the most prolific form of cancer, and the most preventable. This is why EIC and Sun SafeTee are combining forces. They will be conducting exposed-skin cancer screenings with licensed dermatologists at various golf industry events throughout the year, according to Mark Wishner of the Sun SafeTee program. The program will also be issuing regular sun safety communiqués including brochures for distribution in schools, workplaces and athletic facilities, to help prevent you from becoming a statistic!
These resources will also be available for the creative community to encourage accuracy and issue prioritization among writers and producers. "The entertainment industry and sports broadcasters are in a unique position to reach millions with a single accurate message that can encourage broad audiences to take control of their health. EIC is dedicated to bringing the power and influence of the industry to bear on health and social issues, like skin cancer, to get this vital health information to the public at large and drive change," says Brian Dyak, President & CEO, EIC.
So, as you hit the green this weekend, set-up your tee times, or plan for a family outing outdoors, remember to seek shade, apply sunscreen (SPF 30), wear protective clothing (like a hat, sunglasses, and sun-protected long-sleeve shirt) and "Don't Burn…Reapply at the turn!"
For more information on Sun SafeTee, including ways to support our efforts log on to http://www.sunsafetee.org or http://www.sunsafetyalliance.org
About Sun SafeTee
The Sun SafeTee® Program is dedicated to providing sun protection education and opportunities for the early detection of skin cancer in the golf community. As a program of the Entertainment Industries Council, Inc., we are dedicated to reducing the incidence of skin cancer and creating national awareness of this important health issue in America. Sun SafeTee believes that a concerted focus on skin cancer prevention, education and awareness is the only way to change generations of behavior and lifestyles.
About Entertainment Industries Council
EIC, a non-profit organization, was founded in 1983 by leaders of the entertainment industry to bring the power and influence of the industry to bear on communication about health and social issues. The organization is considered to be the chief pioneer of entertainment outreach and one of the premiere success stories in the field of entertainment education. EIC provides information resources for entertainment creators through innovative and time-proven services and methods of "encouraging the art of making a difference" from within the entertainment industry. EIC produces the simulcast national television special PRISM Awards Showcase which addresses accurate portrayals of prevention, treatment and recovery from drug, alcohol and tobacco use, and mental health concerns.
The organization also produces the S.E.T Awards, honoring positive and non-stereotypical portrayals of science, engineering and technology.
EIC also addresses issues such as diabetes, ADHD, Post Traumatic Stress Disorder, foster care, women's health, firearm safety and injury prevention, sun safety and skin cancer prevention, human trafficking, terrorism and homeland security, eating disorders and obesity, seat belt use and traffic safety, and HIV/AIDS prevention. The organization has also launched an initiative to increase the public profile and interest in science, engineering and technology. EIC's web site is http://www.eiconline.org. The PRISM Awards web site is http://www.prismawards.com.