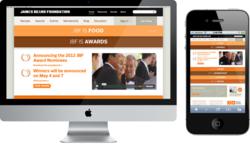 We are delighted with the exciting new website we were able to create with the technical support, creative input, and overall enthusiasm of the great team at The Mechanism.

- Mitchell Davis, James Beard Foundation Executive Vice President
NEW YORK, NY (PRWEB) April 10, 2012
On Monday, March 19, 2012 the James Beard Foundation launched their new website at http://JamesBeard.org in conjunction with the announcement of their nominees for the 2012 James Beard Awards.
Developed by The Mechanism (http://themechanism.com) to coincide with the Foundation's 25th Anniversary taking place this year, the new website focuses on the Foundation's mission to celebrate, nurture and preserve America's diverse culinary heritage and future, in a one-stop online location.
Using innovative filtering mechanisms, the site provides food lovers easy access to a vast library of award-winning recipes and up-to-date listings of events at the historic James Beard House. James Beard Foundation members also receive additional benefits including the ability to curate their favorite recipes, Chefs and events.
From information on their leadership awards and annual food conference, to their beloved blog and active social media presence, to supporting culinary scholarships, to showcasing great epicurean experiences with renowned chefs, to the highly-anticipated James Beard Awards, http://JamesBeard.org is now a robust gateway to the many initiatives the James Beard Foundation produces each year.
"It was exciting to work with the enthusiastic and highly creative team at The James Beard Foundation," said Dave Fletcher, Founder & Executive Director, The Mechanism, New York City. "We believe that the myriad functional and visual enhancements to the website will surprise and delight their diversified audience, and the new "member-only" features will keep them returning to the site and sharing their experiences with friends and family into the future."
"We are delighted with the exciting new website we were able to create with the technical support, creative input, and overall enthusiasm of the great team at The Mechanism," said James Beard Foundation Executive Vice President Mitchell Davis. "They took the time to understand the goals of our organization and our role in the ever-dynamic food world and weave them through our new site in unexpected, fun, and effective ways."
Formed in New York City in 2001, The Mechanism is a collaborative technical and creative digital agency. They provide web, mobile, print, brand development, copy writing and search engine optimization services to clients ranging from SMEs and small-cap public companies to Fortune 500s.